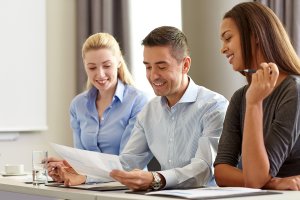 Sales Management
A modular in-company training programme, with each module lasting two full days (Four days in total).
Designed for National Account Managers leading a team of Account Managers, National Sales Managers, Field Sales Managers, Regional Sales Managers and for individuals on a personal development programme leading to sales management. A thorough and practical approach that ensures the Sales Manager becomes more competent in the key areas of managing and leading their sales resource towards the achievement of company goals.
Module 1:
The Role, Responsibilities and Accountabilities of the Sales Manager
Understanding Company Mission and Strategy
The Importance of Communication
Salesforce Reports and Information Systems
Developing and Implementing a Team Strategy and Vision
Cultivating Your Culture with Culturemetrics
The Team Together - The Team Apart
How Managers Should Manage Themselves
Working With Your Line Manager and Multi-functional Teams
Team Functions and Working Together
Leading, Managing and Motivating
Workload Analysis
Team Analysis
Measuring Performance
- Key Performance Indicators
- Competencies
- Standards of Performance
The Performance Development Review Process and Documentation
Evening Self Study
Instant Role Play
Individual Action Plans
Module 2:
The Performance Development Review - Interactive Interview Process
Culturemetrics - One to One interview
Managing and Measuring Team and Individual Performance
People Problems and Problem People
Recruiting the Right People and Keeping Them
Continuous Training and Development - Team/Individual
Succession Planning
The Manager as Trainer and Coach
Motivating a Successful Team
Delivering Customer Service Excellence
Evening Self Study
Individual Action Plans
This two-part modular programme is one of our standard in-company programmes designed for the FMCG sector. We deliver it to your people at a venue and date of your choice.  The two modules can be run sequentially, or with a gap between them. Call us on 01608 644144 to discuss your needs or use the enquiry form.
"Very entertaining, instructor kept us involved and awake!"
HM
Contechs