What is included:
The training course materials for this 1-day time management programme contain the following:
Trainers guide and synopsis
PowerPoint*TM slides for every key subject
12 delegate exercises plus additional review handouts
Course notes for reference material
Course certificate template
Delegate assessment template
Front cover sheet template
Course details template - objectives and contents
Overview:
These training materials provide a one-day programme for all staff. All materials are ready to use but can also be easily tailored by you.
The comprehensive training material has been developed from extensive research as well as from practical real life experience in the business world. There are a significant number of tools and techniques that each individual can use to improve their use of time – making this course a must for all employees.
The material is designed specifically to develop techniques for effective use of time in an interesting and interactive way. Your learners will discover their personal approach and understand their personal strengths and weaknesses. It will provide a wealth of useful tips and techniques they can use.
Key learning points are reinforced with a series of delegate exercises to develop techniques that can be readily put into action to improve individual performance in and out of the work place.
The training materials also includes detailed course support reference material to aid successful ongoing implementation in the workplace.
Programme Outline
The nature of time
The 4Ds to successful time management
The process of time management
Setting goals and objectives
Assessing the level of control you have on your time
Prioritising your time
Time management styles
- Identifying your strengths and weaknesses
- Managing your use of time
Using the 80:20 rule
Dealing with high workloads
Planning the use of your time
- Using daily, weekly and monthly plans
Using your prime time to maximise efficiency
The rules of time management
Identifying personal time wasters
Dealing with other types of time waster
Minimising the impact of interruptions
Dealing with high volumes of paperwork and emails
Coping with tight deadlines
Analysing your current use of time
Better organisation
Time management techniques
Developing your personal action plan
Exercises & Handouts
The following exercises and delegate handouts are included:
Effective objective setting
Control of your time
Prioritising case study with answers handout
Prioritising your workload
Time management styles questionnaire and score sheet
Strengths and weaknesses action plan
Prime time
Dealing with time wasters
Working with deadlines
Organising your workspace
Organisation
Daily, weekly planning worksheet
Work log handout
Time use analysis
Time management techniques questionnaire
Post course action plan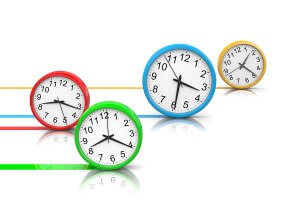 Programme Title
: Time Management Skills
Training Duration:
1 day
Price:
£199 + VAT
Target Audience:
All staff.
Buy now and get immediate access to these training materials:
Trainer Support
We provide a support programme designed specifically for those purchasing our training course materials.
view details