What is included:
The training course materials for this 1-day telesales programme contain the following:
Trainers guide and synopsis
PowerPoint*TM slides for every key subject
Delegate exercises plus additional review handouts
Course notes for reference material
Course certificate template
Delegate assessment template
Front cover sheet template
Course details template - objectives and contents
Overview:
These training materials provide a one-day programme for all sales people. The training materials are ready to use but can also be easily tailored by you.
The training material develops your learners' telephone selling skills. It addresses the challenges of selling by phone, which is widely accepted as far more difficult than face to face selling.
This is a highly practical programme which includes numerous exercises for you to use with your delegates. During the day, learners develop their individual approach to making calls at each key stage of the sales process.
Programme Outline
Telephone Selling Techniques
Dealing with Rejection
Planning Outgoing Calls
Cold Calling
Opening a Call Positively
Getting Past a Gate Keeper
Reaching the Decision Maker
Using Your Voice Effectively
Establishing the Need
Telephone Listening Skills
Building Your Sales Case
Making a Telephone Sales Presentation
Handling the Objections
Gaining Commitment and Closing
Action Plans
The following exercises and handouts are included:
1. Planning outgoing calls
2. Benefits
3. Making initial contact
4. Getting past the gatekeeper
5. Getting past the gatekeeper and example answers handout
6. Question portfolio
7. Objection handling and example answers handout
8. Closing techniques
9. Post course action plan
Bonus exercise
Making follow-up calls
Samples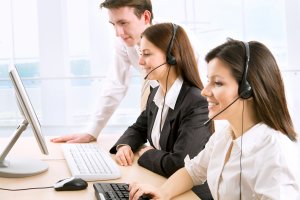 Programme Title
: Telesales Skills
Training Duration:
1 day
Price:
£199 + VAT
Target Audience:
All sales people.
Buy now to get instant access to the training materials: Buy Now

Trainer Support
We provide a support programme designed specifically for those purchasing our training course materials.
view details
Any Questions?