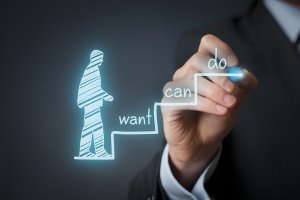 Coaching on a one-to-one basis is highly regarded for its exceptional effectiveness.
We offer both a telephone-based and face-to-face coaching service.
Our team of highly specialised trainers can work with your people on an individual basis to improve personal and business performance.
Telephone Coaching
Coaching by telephone can be a cost effective way of delivering personalised post-training support to delegates. The tutor calls the delegate at a pre-agreed date and time and provides live coaching. Prior to the coaching session the delegate prepares by completing a telephone coaching preparation pack. The cost for telephone coaching depends on the duration and number of coaching sessions provided.
Face-to-Face Coaching
Our approach to the design and delivery of face-to-face coaching sessions is what makes them so effective. Each coaching session is designed specifically for the individual being coached. We provide three types of face-to-face coaching:
1. Coaching for Managers
Specialist management coaching, including Executive Level coaching, to develop individual expertise in areas of unfamiliarity or difficulty. Where senior managers are coached this service can have a dramatic effect on the performance of the whole organisation.
2. Coaching for Staff
Often used to help with planning and implementation. This type of coaching is particularly beneficial after a training programme.
3. Field Sales Coaching
Aimed specifically at Sales Personnel to develop sales skills to a high level of competence. Sales Staff are accompanied on selected client visits.
Prior to the coaching session(s) the tutor who will coach the delegate will call and take a full brief from the delegate or from the delegate's line manager (as appropriate) to identify key issues and objectives. A coaching agenda is then produced and the coaching session(s) delivered against this agenda. Where required by line management we submit detailed observations and recommendations designed to help with long term sustainable improvement.
An individual coaching session typically last 4 hours. Where a full day of coaching is booked, it is sometimes possible to split the coaching day into 3-4 shorter sessions, allowing more than one person to be coached per day. Managerial and staff coaching is usually held at our training regional training center in Chipping Norton, Oxfordshire, but can be at the client's own venue or at an external venue of the client's choice if required.
Coaching Fees
The fees for coaching depend on the type and level of coaching provided. Where multiple coaching sessions are arranged, the fee will reflect the total volume of coaching booked.
For an initial discussion on how we can make this service work for you call 01608 644144 and ask for David Stone or email us at info@spearhead-training.co.uk