What is included:
The training course materials for this 1-day call centre training programme contain the following:
Trainers guide and synopsis
PowerPoint*TM presentation with over 40 slides
10 Delegate exercises plus additional review handouts and bonus exercises
Course notes for reference material
Course certificate template
Delegate assessment template
Front cover sheet template
Course details template - objectives and contents
Overview:
These training materials provide a one-day programme for training anyone who is responsible for handling calls and who needs to know how to deal with telephone conversations professionally. It is also useful as a refresher course for your more experienced telephone operatives and can be delivered as part of their ongoing development. The training materials are ready to use but can also be easily tailored by you.
The training material is designed specifically to develop the skills and knowledge of call centre staff taking customer calls. It will ensure that they are able to provide professional call handling whilst ensuring all customers are dealt with efficiently and in a timely manner.
Your learners will learn how to handle conversations professionally, including how to deal with awkward customers and how to handle complaints effectively. Action plans are developed using a specially designed questionnaire which includes 80 points of effective call handling.
Programme Outline
Handling Incoming Calls
- Answering the phone
- Structuring the conversation
- providing information
- Positive endings
Call Handling Skills
- Professional telephone communications
- Gaining information & questioning skills
- Clarifying information received
- Positive responses to customers
- Re-routing calls
- Placing customers on hold
- Dealing with delays in obtaining information
- Assessing you communication skills
- Avoiding the common mistakes
Making Outbound Calls
- Opening the conversation
- Leaving a proffesional message
Customer Service Standards
- The reasons for losing customers
- Creating a positive image
- The different customer service styles
Managing Calls
- Closing conversations politely & professionally
- Ending in a timely manner
Dealing with Difficult Calls
- The different types of difficult callers & how to deal with them
- Handling angry customers
Handling Complaints
- The stages of complaint handling
- Achieving positive outcomes
Techniques for Professional Call handling
Exercises & Handouts
The following exercises and delegate handouts are included:
Actions plan template
Your personal dislikes
Some typical dislikes
Effective handling of a call
Listening skills
Listening skills - with model answers
Service standards
Service standards - with model answers
Communications style  - questionnaire
Communications style - score sheet
Handling the different personalities
Complaint handling
Difficult callers
Role Play - delegate preparation
Role Play - reviews
Rules for call centres
Personal actions planning
Additional (bonus) exercises & handouts:
Using empathy
Using empathy - with model answers
Some difficult callers
Some difficult callers - with model answers
Using positive language
Using positive language - with model answers
Samples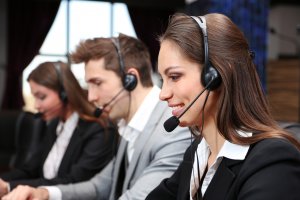 Programme Title
: Call Centre Skills
Training Duration:
1 day
Price:
£199 + VAT
Target Audience:
All call centre staff.
Buy now to get instant access to the training materials:
Trainer Support
We provide a support programme designed specifically for those purchasing our training course materials.
view details
Ask a Question: