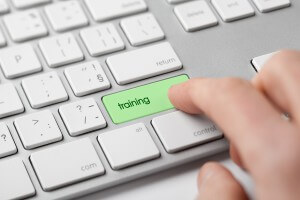 Everyone strives for success. However, sales are very visible and performance is easily measured. It follows that as a salesperson success is absolutely essential and is highly influenced by your actions and abilities.
The demands which a profession in sales makes on you are constant. If you want success you must be able to remain positive under all circumstances. The prerequisite for this is an inexhaustible supply of self-motivation. This online course teaches you the techniques to motivate yourself to success in selling.
Designed by our own experts to develop essential knowledge and techniques, the course is easy to use and relate to the "real world" of selling. Applied correctly it will yield an excellent return on your time and money investment.
The complete online self-motivation for sales people training programme consists of 9 modules, test questions and downloadable self-development exercises. Details of these are presented below. Please take the time to view this information and if you have any questions please contact us.
Special Introductory Price: £59.99

(All prices exclude VAT)
You have 3 months to complete the entire course.
The 9 modules in this course are as follows:
---
Introduction. This module introduces the course and provides details on how to get the best from the material.
Tutorial 1. Self-Motivation by Means of a Sales Strategy: This module looks at the laws of success and how to use a sales strategy as a motivational tool.
Tutorial 2. Self-Motivation by Means of High Identification: This module looks at the importance of maintaining a high identity and techniques for increasing this.
Tutorial 3. Self-motivation by Satisfying Your Needs in a Balanced Manner: This module looks at the five motivational needs of sales people.
Tutorial 4. Maintaining a Positive Attitude: This module looks at the consequences of a negative attitude and how you can positively influence your mood.
Tutorial 5. Overcoming Mental Barriers: This module looks at recognising and overcoming the mental barriers you face.
Tutorial 6. Setting the Correct Goals: This module looks at what you should do in order to set motivational goals for yourself.
Tutorial 7. Positive Thinking: This module looks at the four laws of positive thinking and how you can apply them.
Tutorial 8. Successful Acquisition of New Customers: This module provides a special training programme that uses the techniques so you gain the motivation to tackle the difficult task of acquiring new customers.
Test questions with answers are also provided and a personalised certificate can be printed at the end of the course.
There are also downloadable post-course exercises and additional support materials for you to use.
---
Please see the on line training page for FAQ's
How to Order
If you are ordering the online self-motivation for sales people course for yourself then there are three ways you can do this:
1) Use the order form - on the right of this page
2) Contact our Customer Service Advisors - call us on 01608 644144 and we will take your order.
3) Email us your requirements - info@spearhead-training.co.uk (you can also use this email to request a booking form, which we will send by return)
On receipt of your order we will send you an invoice, and as soon as your payment has been received we will send email you your unique pass key so you can access your online course. If you choose to pay by credit/debit card then the invoice will contain a secure PayPal link so that you can pay for your course this way.
If you are a corporate customer and require online sales leadership training for multiple users, please see the corporate online training section for purchasing options and ordering details.
Terms & Conditions
Why choose online self-motivation for sales people training
Here are eight reasons why you should choose this online course:
Order Form
"Very relevant to helping me in my new role."
KS
MBA Polymers
"Tutor was extremely informative and helped answer any questions"
NP
Adamas
"The whole content was immensely valuable & appropriate to me"
SK
Omega Pharma Ltd