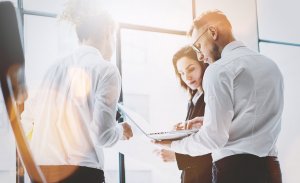 When it comes to delivering effective training, the first and most important quality area is the quality of the tutorial team.
Clients tell us that no other training provider can match and there are only a few who even come close to the quality, experience and expertise of the Spearhead tutor team.
We are certainly very choosy about who joins us and every tutor has been hand picked. To become a Spearhead Tutor you must have a prior track record of success in business. Indeed most of our tutors ran their own businesses or divisions of large operations before joining the Spearhead Team. These business experiences are important, without them our trainers could not give our clients those additional practical tips and techniques that only true experts who have actually been successful in business know about.
Our tutors also have to go through a programme of continuous professional development with Spearhead Training. This passion for continuously developing themselves, as well as others, is important and ensures our trainers remain totally effective.
The number of training days our tutors are expected to deliver training per week is also closely monitored so that it does not exceed an average maximum of three days per week. This is to ensure our tutors are always fresh and highly dedicated when running our training courses. We know that tired tutors are incapable of delivering good training to you, our clients.
The Spearhead Tutor Team is truly international. Not only do we have tutors based in the UK, but we also have tutors based in the other regions where we have offices – namely Dubai, Abu Dhabi, Qatar and Sharjar.
As a result, the Spearhead Tutor team is the best in the business: top line passionate trainers, often with international experience, who are recognised experts in their particular discipline and who are totally dedicated to bringing you world class training.
Our support team is also special. We recruit well and train further, so it is not surprising that many clients comment favourably on the helpful attitude and competence of our support staff.
Our Course Administrators take pride in ensuring every client receives quality advise and that "personal touch" that will make their experience of working with Spearhead an enjoyable one. Give them a call today on 01608 644144 to discuss your training needs – they are there to help you get the right training so you can rest assured they won't be selling training that's not right for you.
We are very proud of all our team. Should you even consider exposing your staff to less?

"The real life examples were so important to help me understand how I can use tools in practice"
SK
Omega Pharma Ltd
"Whole course was exactly what I wanted"
PR
Gap Group Ltd
"Excellent training"
BS
Forever Living Products
"The whole content was immensely valuable & appropriate to me"
SK
Omega Pharma Ltd