Spearhead Training Psychometric Personality Profiling System
The use of psychometric personality profiling in business, if used correctly, can have a huge impact on performance.
Spearhead Training commissioned the design of bespoke psychometric profiling systems. After extensive research of the available options in the market place Spearhead identified a gap for an effective system that was easy to use with a lot of practical points that delegates could readily implement and action in the work place.
The benefits of Spearhead's psychometric personality profiling systems are as follows:
Improved business performance at all levels.
Cost effective - much lower cost than most other alternative options available in the market. Furthermore no expensive software or technology is required.
Quick and easy to complete (the average completion time is around 25 minutes).
Easy to understand results which can be readily applied in the workplace.
There are three types of psychometric personality profiling systems:
SAS© - Situational Analysis Survey for those in leadership and management roles
RSVP© - Relationship Sales Value Profiler for sales people
TOPS© - Time Orientation and Prioritisation Survey for all other staff
What is included with each profile:
Psychometric questionnaire to complete and send back to us
Scoring, individual results chart and report
Detailed review reading material
Access to the Spearhead help-line
Costs:
1-25 profiles £37.50 plus vat each
26-50 profiles £35 plus vat each
51-100 profiles £32.50 plus vat each
100 plus profiles £30 plus vat each
What are the next steps?
Simply choose how many profiles you require and place your order using our by contacting our office (01608 644144 or info@spearhead-training.co.uk)
We will issue an invoice for payment (payment can be made via BACs, Credit/Debit card via PayPal)
Once payment has been received, we will email the relevant questionnaires to you.
Once the questionnaires have been completed, simply email them back to us.
We will score the results within five working days and provide an easy to read results chart and individual report along with detailed reference material for each completed questionnaire which will be emailed back to you.
What do the questionnaires look like?
Each questionnaire includes a series of statements (24 for SAS and RSVP, 30 for TOPS). Each statement has four possible answers and a score is given to each answer depending on the priorities of the individual completing the questionnaire. Each questionnaire will come with its own instructions for completion.
Example:
Read each situational statement and its four choices of action.
Rank each of the four choices of action by writing one of the numbers below in the boxes provided.
Make sure that each choice of action is RANKED BY A DIFFERENT NUMBER. In other words, use each ranking number ONLY ONCE amongst the four choices.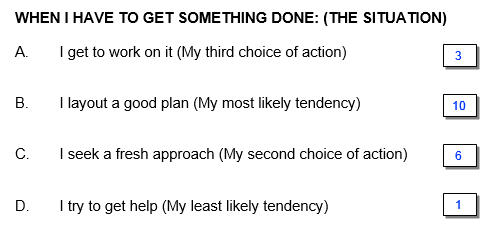 Example Report Documentation:
Example Results Chart
Example Results Report
Do you want Spearhead to run courses for your people?
We can deliver the following courses:
Training the trainer - Upskill your internal trainers to deliver psychometric personality profiling courses and one to one results reviews.
Manager training - Develop your manager's ability to get the best from their people.
Sales training – Enhance existing skills of your sales force with a fresh perspective to dealing with each type of customer.
Staff training – Make you staff more effective with greater knowledge of their individual work style strengths and weaknesses.
Fees for delivering training courses are £1,385 per day plus vat and expenses.
Background Information:
The psychometric personality profiles are instruments designed to measure one's orientation and priorities based on the latest scientific researches into our innate perceptions, sense, and overall psychology. It is a personal assessment of how one values different situations.
All human experiences: work, leisure, relational and personal are defined by measurable and innate "mind styles". (Defined means given shape, structure, character, priority, approach).
Styles are, therefore, ways of perceiving experiences, and processing and transforming this information into actions, thoughts, and feelings. In other words mind styles are decision styles: the cause of our behaviours and our manner of managing situations.