This online training course shows you why and how to plan and prepare for every client visit and sales negotiation sensibly and systematically. It is the perfect course to study at your own pace and improve your success.
Designed by our own experts to develop essential sales knowledge and techniques, the course is easy to use and relate to the "real world" of selling. Applied correctly it will yield an excellent return on your time and money investment.
The complete online planning sales calls and preparing for successful negotiations training programme consists of:
- 12 tutorial modules
- Test questions with answers
- Downloadable self-development exercises
- Additional down-loadable support materials
- A personalised certificate to print
Total duration: 1hour 45 minutes
Additional support is provided by e-mail.
Details of the course are presented below. Please take the time to view this information and if you have any questions please contact us.
---
The 12 modules in this course are as follows:
Introduction. This module introduces the course and provides details on how to get the best from the material.
Tutorial 1. Why Preparation is Important: This module looks at the importance of preparation and includes a short self-asessment test.
Tutorial 2. Setting Yourself Goals. In this module you will learn what goals you need to set you yourself in order to achieve your targets and how to do this.
Tutorial 3. The Information Stage. In this module you will learn what information you need to gather and how to do this.
Tutorial 4. Determining the Sales Potential. The basis of every sales negotiation starts with determining the sales potential. In this module you will learn how to do this.
Tutorial 5. The Offer. In this module you will learn how to convert the sales potential and requirements into a made-to-measure offer.
Tutorial 6. Conducting the negotiations. In this module you will learn about the preparatory work needed to conduct the negotiations.
Tutorial 7. Obtaining Appointments. In this module the preparation required in order to successfully obtain an apppointment is covered.
Tutorial 8. Key Account Management. In this module you will learn how to prepare for meetings with key accounts.
Tutorial 9. Specific Features of the AGM. In this module you will learn how to prepare for an AGM with a client.
Tutorial 10. Demands and Objections. In this module you will learn how to prepare yourself so you can effectively handle customer demands and objections.
Tutorial 11. Types of Purchaser. In this module you will learn about the different types of purchaser you could meet.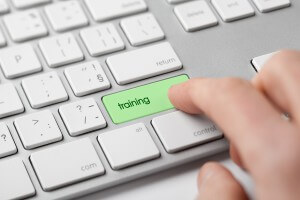 Price:
£45 + VAT

Buy Now
Buy now and get immediate access to your on-line sales training!
---
How to Order
If you are ordering the online course for yourself then there are three ways you can do this:
1) Simply click on the Buy Now button and you will be taken to our secure PayPal site where you can pay by credit or debit card. Once payment has been made you will automatically receive your unique pass key (via email) and can immediately access your online training.
2) Contact our Customer Service Advisors by telephone (01608 644144) and they will take your order.
3) Email us your requirements at info@spearhead-training.co.uk (you can also use this email to request a booking form, which we will send by return.)
On receipt of your order by method 2 or 3, we will send you an invoice with a secure link so that you can pay for your course using PayPal. Once your payment has been received, we will send you an email with your unique pass key so you can access your online training.
If you are a corporate customer and require training for multiple users, please see the corporate online training section for purchasing options and ordering details.
Terms & Conditions