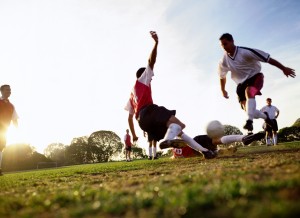 Today everyone in the office is talking about the incredible achievement of the Leicester City football team (or the "Foxes" as they are affectionately known by their fans). The reason? They have just won the Premier League title after Tottenham's 2-2 draw at Chelsea yesterday. Starting as complete "no-hopers" at the start of the season (you could apparently get odds of 5,000 to 1) how did this team achieve such greatness and what can we learn from them?
I'm sure that the "big" clubs (Spurs, Arsenal, Manchester City, Manchester United and last year's champions Chelsea) will be looking closely at how the Foxes outsmarted them and as managers in business we too can learn from studying Leicester City's amazing achievement. So here are five facts about the Foxes and the lessons in leadership we can learn from them:
Leicester City football club was led to success by Claudio Ranieri who took over from the previous manager (Nigel Pearson) in the summer of 2015. Ranieri's previous job ended abruptly when his Greece side lost to the Faroe Islands during the Euro 2016 qualifying rounds.
Lesson one: Don't let your past failures hold you back from future success.
At the time of his appointment Ranieri was considered as an uninspired choice by some of the Foxes fans. Indeed, it could be argued that he had a lot to live up to as his predecessor had overseen a run of seven wins in nine games – so preventing the Foxes from being relegated in the 2014-15 season. Ranieri did not let these negative comparisons change his management style.
Lesson two: Be true to yourself. Genuine leaders inspire trust and confidence in those they lead
Ranieri assembled his successful team for less than £30 million (a very small budget by Premier League standards). He did this by looking for talent in places ignored by the larger clubs.
Lesson three: As a leader keep your mind open for opportunity and learn to identify talent that can be developed.
Ranieri considers himself as a pragmatic man and he has been quoted as saying "I just wanted to win match after match. Never did I think too much about where it would take us."
Lesson four: You need to focus on helping your team achieve the smaller wins consistently, as it is through these smaller wins that ultimate success is achieved.
Ranieri's skill as a football manager was in implementing a training regime that got the Foxes working consistently well together as a team playing the pacy, direct, counter-attacking football that led to them winning match after match (they only lost three league games).
Lesson five: Take the team you have and train them to work together. This is what we call executive leadership skills.