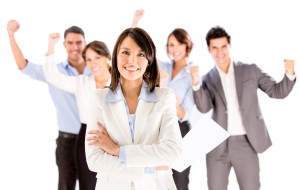 Being a good manager can be tough. You need to stay positive and motivated whatever problems or challenges you face. But how can you do this? We interviewed six highly successful business leaders and asked them what they do when the going gets tough.
Managers need to motivate their team, but to do this they also need to motivate themselves - particularly when things become challenging or don't go according to plan. Our six business leaders have faced and overcome many challenges in building their businesses into the highly successful organisations they are today. We were interested in how they kept themselves motivated. Here's what they said:
Loving Your Work
Gemma Sandy, Director of Business Cost Saving follows the advice of her mum: "My mum has always said, whatever you do for a living, make sure you love getting up to do it. When you've found that "thing", you'll never do a day's work again. And she was right!"
Believing in What You Do
When asked what kept him motivated when things weren't working as he wanted them to, Nassar Siabi said that it was important to believe that what you do will change people's lives for the better. This attitude has made his company MicroLink PC the UK's largest assistive technology provider and he has also received recognition in the form of an OBE for his outstanding work for people with disabilities.
Making People Proud
Sandra Lewis, Founder and CEO of the highly successful virtual assistant service Worldwide101 says it is her team that keeps her motivated. "I see how hard they work in support of our customers" she said "and it motivates me to keep going and make them proud to have joined a successful company."
Being Part of a Team
"We support one another when something isn't working" said Flavilla Fongang, MD of 3 Colours Rule. "It is always a team effort where everyone can learn and grow." She added.
Focusing on the Big Picture
Rob Hill has certainly knows about the importance of staying motivated. In year two of setting up his now highly successful multi-million pound company, the Eventa Group and its three brands The Stag Company, Hen Heaven and Eventa, he nearly ran out of cash. So how does he stay motivated when things are not going according to plan?
"To be honest, I just keep on smiling" he said "and I always look for a positive in every situation. I also try not to dwell on problems for too long as they can drag you down, which can have a negative impact on the rest of team."
And how does he do this? "I have learnt to stay focused and keep thinking about the big picture" he said.
Iglika Ghouse founder and CEO of Uspaah agrees. "Believing in yourself blindly and almost fanatically even in the worst of times is a skill you either have or you don't. Having a thick skin helps, being an optimist helps, but most importantly, when things are going bad, you have to keep your eye on the big picture. No successful business had a rosy, problem-free journey all the way through."
Visualising Your Worst Fear
So what specifically helped Iglika to stay motivated when faced with problems? "What helps me, for example, in a bad situation, instead of panicking, is to imagine the worst-case scenario and come up with a back-up plan for if it does happen. Once you visualise your worst fear, so to speak, overcoming it becomes clearer and easier."
Thinking Laterally
And on staying motivated Gemma's advice is to stay hungry and always remember that success is earned, not given. "There will always be "downs" but focusing on "that reason" why you're in business should always be enough to keep you motivated" she said. "Also, thinking laterally regarding the "downs" can help - was the thing that hasn't quite worked this time achievable in the first place?"
What tactics do you use to keep yourself motivated?
Want to read other tips and advice from our expert business leaders? You may find their predictions for the future challenges businesses face and thoughts on key management skills interesting.