Who is this course suitable for?
This online Stress Awareness course is suitable for all employees.
Managers, supervisors cell/team leaders should also study this course as it will help them to identify and manage stress in the work place.
Certification
Once this online training course has been completed, delegates are required to take a final knowledge test which consists of 10 questions. For certification, the minimum pass rate requirement is 70%.
Users will be able to download and print off their personalised course completion certificate on successful completion of the test.
Course Outline:
This 50 minute course consists of:
Overview
Effects of stress
Stress busting
Managing stress
Knowledge Test
Downloadable Certificate
Course Objectives:
To define stress
To explain the causes of stress
To look at how to manage stress
To identify what to do if you are experiencing stress in the work place
More Details
There is no such thing as a stress-free life. Everyone can experience it. But if we do not manage it then it can have a negative effect on our work and our lives.
An estimated 9.9 million working days are lost per year in the UK due to work related stress, costing the UK economy nearly £5.5 billion. Providing stress management training to your employees makes sound business sense.
This Stress Awareness online training course looks at the causes of stress, the effects stress has on us and at ways to control and resolve stress, both at work and at home.
The terms 'pressure' and 'stress' are defined and the difference in acute and chronic stress conditions described. Delegates will learn what the main causes of stress are and how the reactions we have to a stressful situation is affected by our personality, our physical, intellectual and emotional abilities as well as our view on the stressor.
The course discusses the various physical, emotional, cognitive and behavioural symptoms of stress and how the effects of stress are linked to the development of specific disorders and health issues.
Stress busting techniques are discussed that can help to reduce the build-up of stress.
This course will help delegates to learn the importance of taking personal responsibility for managing their personal stress levels and where they can find additional advice and help.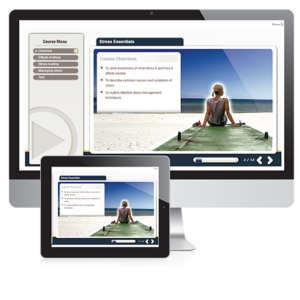 Price: £20.00 + VAT
Buy now and get immediate access to your on-line training!
Special Offer:
Save 10% off the course fee - simply enter coupon code Spearhead on the booking form.
Clicking this button will take you to our Courses123 website where you can securely place your order and pay for this course. Don't forget to enter the code to get your discount!
Once purchased you will receive a confirmation email with a link to your course and your invoice. Click on the link, fill in your first and last name and you are ready to start your course. You will be given 12 months from date of purchase to take the course.
More Than 100 Employees to Train?
Complete this form to request a Free Trial: