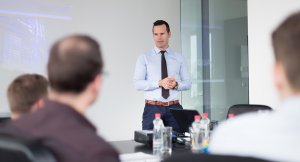 Presentation Skills
- master techniques for maximum impact
A 2-day in-company course
It is widely recognised that speaking to groups is one of the most difficult tasks to accomplish with distinction.
This presentation skills course will teach your delegates how to prepare and deliver powerful and memorable presentations.
Description:
Over the two days delegates are taken through all aspects of preparing and delivering powerful presentations, namely planning and preparation, using notes and memory aids, using visual aids, how to communicate and use the voice, body language, the different styles of presentation, handling questions.
Who will benefit from attending?
Designed for everyone in your comapny who makes presentations or who wishes to develop their presentation skills. It is suitable for those who make formal presentations to individuals or groups - either with or without a projector or other form of presentation aid - and for those who give talks (such as guest speakers). It is also suitable to those who make presentations to customers or partner organisations.
What your people will get from attending:
A review of the key principles of preparing a presentation
Expert feedback on how to improve their personal presentation style
A wealth of tips and development ideas that will make them better presenters
Testimonials for Presentation Skills:
"The whole course was excellent. It improved my skills" MJ, Johnson Tiles
"Watching myself was embarrassing but SO worthwhile! Constant feedback good also" NM, The Rooflight Company
"Found course very good, great fun as well" LW, EMS
"A very experienced and patient tutor. I very much enjoyed the whole experience" SE, Coster UK
 Enquiry Form
To enquire about running this course for your people, please use the enquiry form: