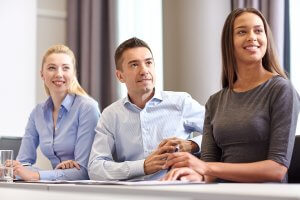 Management Skills
- management beyond the basics
A 2-day in-company training course
This management skills course is designed for managers who have some experience of managing but who have not had any formal management training, or who would benefit from a refresher programme.
Using a lively mix of discussions, exercises and case studies, this is an action packed two days which present a review of modern management techniques to hone the skills of your managers.
Description:
This in-company training course is designed specifically for managers who already have some actual experience of managing people. The programme provides a structured review of modern management techniques and as such will refine the skills of those attending and refresh their approach to managing people.
The programme is suitable for groups of up to 12 delegates. If you have just one or two people to train, then we recommend that you use our open course "Effective Management Skills" as the most cost effective solution.
What your managers will get from attending:
A review of modern management techniques against which they can benchmark their performance
Practice of the key skill areas to give new momentum to their management style and personal development
A fresh perspective on many management problems so they can overcome them
A fund of practical ideas that will lead to improved personal and team performance
Testimonials for Management Skills
"All elements of course excellently delivered." DA, Liquid Friday
"I am very happy with the whole course, better than expected." NC, Essex Safety Glass
"Very happy, all subject areas covered very well." AM, Eurofood Brands Ltd
"I liked how the course was altered to meet our individual needs as we went along." AP, Horse World
Enquiry Form
To make an enquiry or book this course please use the enquiry form: