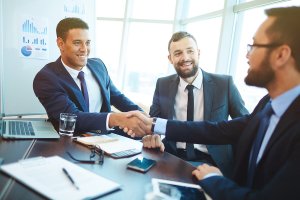 Getting New Business
- the right way to develop new business opportunities
A 1-day in-company workshop
This fast paced workshop provides your sales people with a planned approached to developing new business as well as a boost in terms of improved confidence.
Learning the hard way on the job can be slow and very demoralising. This workshop accelerates the learning process tenfold. It therefore represents an excellent investment for sales managers seeking to develop the skills of developing new business opportunities in their team.
Covering all the key aspects of getting new business, it includes a series of exercises to develop each delegate's approach with individual tutor guidance to ensure best practice.
Description:
This one day in-company workshop first looks at the challenges of getting new business. Step-by-step, the process of prospecting, planning sales calls, making contact, establishing real needs, presenting the sales case, working through objections and closing, are reviewed.
What your team will get from attending:
A full understanding of the stages of developing new business.
The opportunity to develop their approach to developing new business.
Tips and points for action for each step of the process that can be used to improve results.
Testimonials for Getting New Business
"Course very well presented and informative, thanks." AB, Sensor-Tecknik UK Ltd
"Very good training. I felt comfortable. All staff were great." NG, Man and Machine
 Enquiry Form
To enquire about this course for your sales team please use the enquiry form;