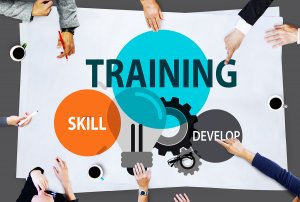 One of the questions our Customer Support team is often asked by clients is "I've a number of people to train – should I use your open courses or is it better for you to run an in-company course for us?"
It's a great question and the answer is "It depends…"

There are a number of questions that need to be answered in order to select the very best training solution for your people. Whilst our Customer Support team are always delighted to talk through your own unique situation and provide advice, we thought that some more generic information would also be helpful to you. So we interviewed one of our Course Directors, Richard Stone, to share what those sourcing training for others need to consider.
Me: "So Richard, what do I need to think about if I want to train a number of people?"
Richard: "Well the first consideration is to ask yourself: do they all need the same training? Training is most effective when people attend a course which is pitched at the right level for them… it would be pointless sending a supervisor on a management course designed for senior managers, or someone just entering their first sales job on an advanced selling course."
Me: "That makes sense, so if we assume they all have the same needs, is it best to run an in-company course or use Spearhead's open courses?"
Richard: "There are advantages and disadvantages to both approaches and in order to make the right decision there are a few questions that still need to be answered. The first is how many people do you want to train? Whilst we can, and do, provide one-to-one training and coaching this is the most expensive training solution and you may not have enough training budget to do this. Also, training in a group allows the exchange of ideas and builds additional skills, such as team work."
Me: "I see, so if I have just one person then an open course would be best?"
Richard: "It would be the most cost effective solution"
Me: "So what if I do have a group…?"
Richard: "Well the next question to ask yourself is can I have everyone out of work at the same time? If the answer is yes, then an in-company course is likely to be the most cost effective solution, if the answer is no, then our open courses are best as you can book people on to the same course on different dates."
Me: "That sounds like an easy decision - is there anything else to consider?"
Richard: "Yes. You also need to consider whether you want your people to benefit from interacting and learning from people outside your organisation rather than just from the tutor and their colleagues. With an incompany course it can be hard to get people to think beyond what happens in their organisation. Whereas on an open course they will meet people from different organisations and cultures. The understanding gained by chatting with fellow delegates during lunch and coffee breaks adds to the overall learning on the course. "
Me: "So when would an in-company course be better?"
Richard: "Well if you want to specifically tailor a course or include company specific exercises and examples then an in-company is obviously the better solution and, of course, by having us come to your venue your delegates save time traveling to the training and may not need to stay away overnight. "
Me: "Thanks Richard, That's great advice."
If you would like help in ensuring you are selecting the best training for your people give us then either call us on 01608 644144 or use the enquiry form and one of our customer advisors will be in touch to help.