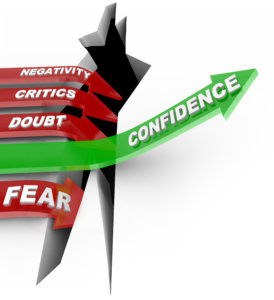 Throughout the month of June the Festival of Learning runs its "Have a Go" month. So to help support all adult learners in this blog we look at some tips to help you develop your own "have a go" attitude.

Whenever you try something new for the first time it is natural to feel a little apprehensive. In these situations it is easy to think only about the worst case scenario your actions could generate. These negative thoughts can stop you from having a go at something new. When you catch yourself doing this negative thinking make a conscious effort to mentally flip the situation on its head and think about the best thing that could happen and visualise this. Positive thinking is known to support positive action.
You can also use the Act 'as if' approach. If you are lacking in confidence then act in the manner of someone who is confident. The way you move and hold your body affects your emotional state, so acting as if you were confident will help you feel more confident.
When doing something new it can also help to find and use those things that make you feel better and use these as rewards for when you have had a go at something new (whatever the outcome). Such things could having a nice cup of coffee or a chat with a friend. Be careful that you do not use these nice activities as distractions rather than doing the new thing – procrastination is your biggest enemy. Used as rewards after you have done something new will help to keep you motivated for the next new thing.
When you are learning something for the first time do not compare yourself to others. There will always be someone at work who is better or more able than you. You are at the beginning of your learning journey and they are well underway – so such comparisons are pointless and will only make you feel worse about your own achievements. Instead focus on what you need to do and how you can improve so as to reach your own goals.
Move forward in small steps. OK, you may want to be the MD or most successful sales professional in the UK – but achieving these goals needs to be done in smaller steps. For example, if you have only just got your first supervisory position, do not go on an executive leadership course, or if you have just a couple of months experience in sales then advanced negotiations skills will not be right for you yet! Pick a training course that is at the right level to move you forward from where you are now.
Do ask others for help. Asking for help is not a sign of weakness or failure. Asking for expert help is, in many cases, the best thing to do. A good support network is vital for success.
Finally, be prepared to make some mistakes (all learners will make some). The key is to learn from the mistakes you do make. Make notes about any mistakes you make and then write down how you solved that particular situation. This helps you to learn positively from your experiences. So, whatever the outcome and situation, always reflect on what went well and what didn't as this will improve your confidence for the future: you'll know the solution for a particular issue. Another benefit is it allows you to support and help your colleagues if they come up against a similar issue in the future (so you become their support network).

The Festival of Learning is an annual campaign promoted by National Learning and Work Institute, and supported by the Department of Education. It celebrates and promotes adult learning opportunities and is currently in over 55 countries worldwide.
The mission of the Festival of learning is to highlight the benefits of learning, celebrate achievements of adults who have used learning to transform their lives, and to encourage everyone to embrace lifelong learning. Aims which we fully support, as they are very much in alignment with our own values, where we see our role as supporting delegates to achieve their full potential, not just during the training we provide, but after it as well.