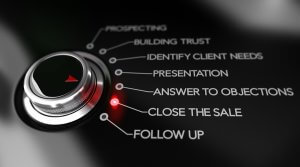 Closing Sales
a 1-day in-company training course
Closing the sale is the main goal of all sales activities. This one day workshop concentrates on maximising the chances of closing the sale and gaining the order. Closing is such an important part of the selling process which makes this training a must for virtually every sales team.
This in-company course will help develop delegates confidence and ability to close effectively in a range a different situations and to help them consider the requirements for effective closing.
If you have just one or two people to train we recommend that you book them on our open course "Closing Skills"
Programme Content
Prerequisites for Closing the Sale
Barriers to Closing
Why Closing is so Hard
Closing Starts at the Beginning of the Sale
Gaining Customer Commitment Through the Sales Process
Opportunities for Closing
When to Close
Buying Signals
Trail Closing
Aiding the Decision Making Process
Closing Different Customer Types
Closing Techniques
Overcoming the Objections
The Follow-up Call
More Details:
Closing is a highly dynamic situation with a number of variables. Firstly there is one's natural sales style and the techniques with which each person feels comfortable. Then there is the potential customer who will have a preferred way of being sold to. Lastly there is the situation and environment to which you are selling. Taking these factors into account, closing requires great judgment and skill. Closing also exposes the seller to rejection. As human beings we often fear rejection and this can create a barrier for salespeople. Therefore developing confidence is equally important. This training is all about helping people to close professionally and confidently.
This closing sales training is one of our specialised in-company programmes which can be delivered for your team at your venue and date of your choice. If this is not exactly right for your sales team we can create a tailored or bespoke training solution that meets all your needs. Please either use the contact form or call 01608 644144 for further details.
"Fantastic tutor. She was extremely helpful and insightful."
JBD
Forever Living Products