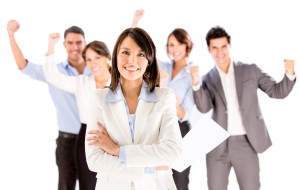 Team Leader Training
A one-day in-company workshop suitable for first line team leaders

Successful team leaders need to learn how to supervise the people they routinely work alongside. It is a difficult transition to make the change from being a team member to being the team leader and this workshop will help to build the knowledge, confidence and skills to do this.
The workshop is fast paced, fun and interactive. Your team leaders will leave the course having had the opportunity to review their skill portfolio and with a host of ideas to help them lead their team.
Programme Content
The Role of the Team Leader
The Skills Required by an Effective Team Leader
Getting the Rapport-Gap Balance Right
Recognising the Needs of Your Team
Keeping Your Manager Informed
Allocating the Work & Giving Instructions
Maintaining Your Team's Performance
Giving & Getting Feedback
Solving Common Problems Team Leaders Face
Managing Yourself
- Developing Your Confidence
- Being Effective & Efficient
Personal Action Plans
This team leader workshop is one of our standard in-company programmes. Suitable for your first line team leaders and supervisors it will be delivered on site at a date to suit your business needs.  If the programmes described above is not what you were looking for, please contact us as we provide tailored and bespoke training solutions.
You can call us on 01608 644144 or use the enquiry form to book this training or to provide us with details of your needs. We always respond promptly and our advice is free.
"The course was very in depth and I was very impressed."
JBD
Forever Living Products
Enquire About This Course