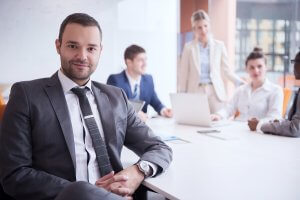 Business Management Training
A two-day in-company course with a one day follow-up training day to refresh, stimulate and inspire performance orientated business management.
This business management training programme is designed to equip business managers with the tools and techniques to be successful in their management role. It covers the issues facing business management in today's competitive and challenging environment. It uses a balance of tutorial input, discussion of issues, current relevant case studies, individual study, group problem solving. Delegates will be expected to complete agreed self-development activities between the initial 2 days and the follow-up day.
Programme Content
The Business Manager Today
- The Skills Required for Success
- Challenges Businesses Face
- Role of the Business Manager
- Managerial Qualities
- Dimensions of Leadership
- Qualities of Leaders
- Situational Leadership
Strategic and Business Planning
- Implementing Plans for Action
- Managing Change
- Critical Success Measures
- The Planning Cycle
The Fundamental Levels of Management
- Analysing Your Own Level
- Practical Application
Recruitment
- The Recruitment Process
- Using Competencies and Selection Scoring
- Interviewing Techniques and Selection
- Validating the Recruitment Process
Getting the Best from Staff
- Developing High Performance
- Identifying Training Needs
- Setting Development Plans and Monitoring Progress
- Staff Motivation
- Dealing with People Issues
Managerial Communication Skills
- Effective Meetings
Assessing and Monitoring Performance
- Setting Clear Targets and Objectives
- Assessing and Appraising Staff
- Feedback
Action Planning
This modular programme is one of our standard in-company training programmes and can be delivered to your people at a venue and date of your choice. If it's not exactly what you want then we can create tailored training based on our extensive library of standard materials or fully bespoke management training for you. Call 01608 644144 for details or use the enquiry form.
"The course as a whole was very good"
SM
Pickering Plant