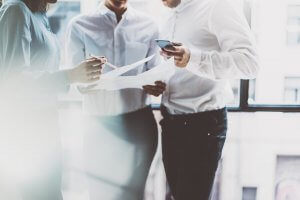 Negotiating with Retailers
A 2-day in-company course
Designed for sales people and account managers, selling to retailers, where negotiation is part of the process leading to a successful sale.
Retailer buyers are more demanding than ever before in this fiercely competitive market. Suppliers are increasingly being squeezed by their customers. The aim of this training is to develop sales negotiation skills in order to improve the contracts negotiated.
Delegates will have the opportunity to practice the techniques covered. This is imperative because whilst the principles are relatively straight forward, the application of these principles requires great skill. The exercises are carefully designed to develop individual ability. The module concludes with a thorough review of tactics that skilled buyers will use in order to negotiate better deals for themselves.
This training is essential for anyone facing a professional retailer buyer today. Delegates will leave with a host of ideas that they can implement in order to improve profitability. Every delegate attending will benefit from improving and fine tuning their ability. This is a very sensible investment for any supplier to the retail industry.
Course Outline:
Defining Successful Negotiations
The Retail Market today
Enhancing the Sales Proposal/Proposition
Establishing Retailer Requirements using the Spearhead Win-Client Model
Establishing Value for Money
Techniques for Presenting Price
Valuing Benefits
When Selling Becomes Negotiating
Communications in a Negotiation
- Body Language
Negotiating Styles
- Analysing Your Own Style
The Principles of Negotiation
Characteristics of a Successful Negotiator
Preparing for a Negotiation
- Pre-Negotiation Research
- Planning the Negotiation Strategy
- Setting Objectives
- Estimating the Variables
- Costing Concessions
- Establishing Your Bottom Line
Negotiating Repeat Orders
Negotiation Techniques
- Opening The Negotiation
- Establishing the Negotiation Parameters
- Trading Concessions
- Winning Outcomes
Dealing with Conflict in Negotiation
The Effect of Giving a Discount
Avoiding the Common Mistakes
Negotiating in Competitive Markets
Negotiating with Skilled Retailer Buyers
Confirmation and Contracts
Practical Exercises with Individual Feedback and Review
Self Development Techniques for the Future
This negotiating with retailers training is one of a series of standard in-company programmes designed specifically for the FMCG sector. It can be delivered at a venue and date of your choice. If the outline does not exactly what you require we can either create a tailored programme based our materials or a fully bespoke training programme for you. Call us on 01608 644144 to discuss your needs or use the enquiry form.
"Exceeded my expectations"
SE
Man and Machine