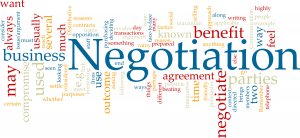 Negotiation Training for Buyers
a 2-day in-company training course
This specialist course is aimed at buyers who need to develop their negotiation skills so they can negotiate better with the salespeople from supplier organisations. The cost of this training will be repaid many times over with increased negotiation effectiveness and will help buyers to become highly successful in their job role. The two days takes delegates through each stage of the negotiation process with exercises at each key stage so that they have the opportunity to relate the points to their own situation. There are also a number of practical exercises aimed at developing buyer negotiation skills.
Programme Content
Negotiating Styles
- Delegate Exercise
Buying Communication Skills
- Models of Communication
- Transactional Analysis
- Questioning
- Listening
- Non Verbal Communication
Characteristics of Successful Negotiators
Negotiating with Suppliers
The Stages of Negotiation
Negotiation Techniques
Planning the Negotiation Strategy
- Setting Objectives
- Costing the Variables
- Identifying Concession Areas
- Identifying Potential Conflict Areas
Creating the Right Climate
Negotiating Skill Development
- Case Studies
Practical Negotiation Role Plays
More Information:
This specialist programme is one of our standard in-company options and can be delivered to your buyers at a venue and date of your choice. If it is not exactly what you want then we can either create a tailored negotiation programme for you based on our extensive library of standard support exercises and materials or we will produce a fully bespoke training course to meet your needs. For more details please call 01608 644144 or use the enquiry form.
"I felt the course was extremely helpful and delivered well with a range of activities to keep our interest and help our understanding"
RC
Yuasa Battery Sales (UK) Ltd
Enquire About This Course