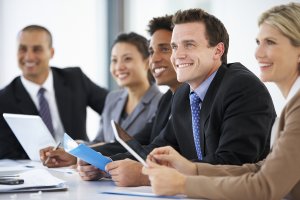 Middle Management Training
A 2-day in-company training course
This programme is for managers with experience of managing. It's designed to equip individuals for a middle management role. The programme includes a review of the issues facing middle managers in business today and consists of a balance of tutorial input, open forum discussions on issues, current relevant case studies, individual reflection and group problem solving.
Programme Content
Today's Middle Manager
- The Various Skill Sets Needed
- Challenges Middle managers Face
- Expectations on the Middle Manager
- Middle Managerial Key Attributes
- Leadership Requirements
- Qualities of a Good Leader
- Situational Leadership
The 3 Fundamental Levels of Management
- Which Level Do You Operate On?
- Practical Application
Getting the Best from Your Managers
- The Need to Develop Your Reports for Improved Performance
- Identifying Your Reports Training Needs
- Producing and Using Development Plans
- Motivating Managers
Importance of Communication
- Fundamental Communication Skills
- Making the Most of Meetings
- Power of Positive Language
Reviewing Performance
- Setting Clearer Objectives
- Appraisal of Managers
- Improving Your Feedback
- Resolving People Issues
- Discipline Considerations
Action Planning
This middle manager training is one of our standard in-company programmes. We will deliver it to your managers at your venue. The date of delivery can be chosen by you to meet your business needs. To book call us on 01608 644144 or use the enquiry form below.
This training programme not quite right for you? Let us tailor or create bespoke training for you. Send us details of what you are looking for using the enquiry form and we will help you.
"The entire course was very useful"
AS
Wise Investment
Enquire About This Course