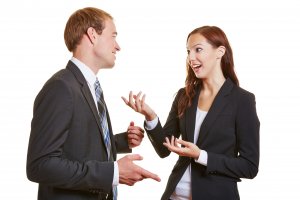 Managing Difficult People
A one-day in-company workshop about solving attitude and motivation problems at work.
The ability to manage people we find "difficult" can have a significant effect upon our productivity and motivation. This participative programme analyses the types of difficult people in order to provide delegates a greater understanding of difficult personality types. Clear guidelines for managing these difficult encounters are provided. There are practical exercises throughout the day to enhance delegates' skills to deal with difficult people.
Whist this workshop is designed primarily for managers and supervisors, it is also suitable for those without supervisory responsibility who need to interact constructively  with people.
Programme Content
What Constitutes a Difficult Person?
Relationships at Work
- Understanding Differing Personalities
- Expectations and Work Ethics
Difficult People
- Who Are They?
- Why they are Difficult
- How To Stay Calm
- Changing Behaviour
Communicating with Difficult People
- Giving and Receiving Criticism
- Making and Refusing Requests
- Responding with Confidence and Composure
- Addressing Hostility and Aggression
The Chameleon Technique
- Using Your Body Language
- Words to De-escalate and Win
- Timing the Communication
A Checklist for Solving People Problems
Case Studies
Delegate Action Plans
This managing difficult people workshop is one of our standard in-company programmes for your managers, supervisors and employees. We deliver it at your own venue on a date of your choice.
We can either create tailored or fully bespoke training on how to manage difficult people If the contents are not exactly right for you. You can use the enquiry form to book this training or to get our advice on meeting your needs. Alternatively, you can call us on 01608 644144 for help.
"Excellent training"
BS
Forever Living Products