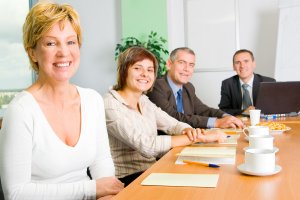 Management Basics
A 2-day in-company course
This fast paced two-day management workshop provides a good overview of people management issues. Tutorial sessions, case studies and practical exercises make this an intensive training programme suitable for those moving into their first managerial position. All attendees will leave the course with a clear idea of what being a manager involves and a tool box of essential skills to take on this challenging role.
Programme Outline
Becoming a Manager
- The Functions and Responsibilities of Management
- Key Management Tasks and Core Competencies
- Reasons for Failure or Success
Managing People
- Allocating the Work
- Setting Standards
- Monitoring People Effectively
- Encouraging and Motivating
- Managing the Under Performer
Managerial Communications
- Feedback Skills
- Listening and Questioning Skills
- Using Team Meetings as A Communication Tool
Managing a Team
- Creating the Right Team Dynamics
- Being an Effective Leader
Managing Yourself
- Creating Time for Management
- Prioritising and Planning Skills
- Using Delegation
Action Plans
This management basics course is one of our standard in-company management programmes and can be delivered to your managers at a venue and date of your choice. For management basics open courses please see: Supervisory & Team Leader Skills or Introduction to Management
If this two-day programme is not exactly what you want then we can either create a tailored course based on our extensive library of standard course materials or produce a fully bespoke training solution for you. Just call 01608 644144 for details or use the enquiry form.
"Very entertaining, instructor kept us involved and awake!"
HM
Contechs