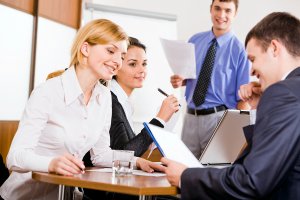 Line Management Training
A 2-day in-company training course for developing line managers' skills
This training has been developed for line managers. Delegates have the opportunity to consider their job role and the actions they can take to ensure managerial effectiveness. Delegates will find this course stimulating with interactive tutor led sessions and challenging exercises. During the two days delegates will develop their post course action plan with tutor support, detailing their key actions that they can implement in the work place.
Programme Content
Defining the Managers Role
The Mechanics & Dynamics of Management
Methods For Making Better Decisions
Prioritising Work
Planning Tools
- The 7 Steps of Planning
- Setting Objectives
The Manager as Team Leader
- Characteristics of Effective Leaders
- Creating Successful Teams
Effective Delegation
Better Communication
- How to Influence
- Listening Actively
- Managerial Counselling
- Improving Your Meetings
Developing Staff Performance
- Conducting Performance Reviews
- Motivating Staff
The programme detailed above is one of our standard in-company programmes and can be used to train your line managers at a date and venue of your choice. If you want a tailored line management course we can either produce one based on our own extensive library of exercises or produce a fully bespoke training option for you. Please telephone us on 01608 644144 for details or use the enquiry form. You can also use this to book this training for your line managers.
"Great course + great tutor. I learnt so much over the two days. Thank you."
KW
Man and Machine