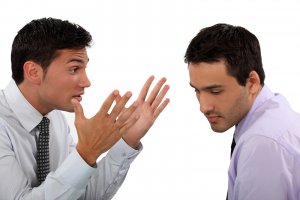 Conflict Management
a one-day incompany workshop on managing conflict in the workplace
Conflict is a dirty word, yet many managers have to deal with various degrees of conflict on a regular basis. This workshop provides delegates with valuable skills to deal with these situations. Delegates will have the opportunity to discuss their individual situations and how they can be dealt with to achieve the best possible outcome. The different types of "difficult" people are considered to give delegates a greater understanding of the conflicts that can arise. Delegates will leave with greater confidence to use the conflict management techniques taught and a clear plan regarding how they can deal with conflict in the workplace.
Programme Content
Elements of a Conflict
The Effects of Conflict
Working Relationships
- Understanding Different Personality Types
- Dealing with Different Expectations and Work Ethics
Difficult People
- Who Are They?
- Why they are Difficult
- How to deal with Them
- Conflict Management Model: Changing Difficult Behaviour
Communicating with Difficult People
- Giving and Receiving Criticism
- Making and Refusing Requests
- Responding with Confidence and Composure
- Addressing Hostility and Aggression
- Using Body Language
- Words to De-escalate and Win
- Timing the Communication
A Checklist for Dealing with Conflict
Case Example of Conflict People
Delegate Action Plans
This conflict management training is one of our standard in-company programmes and is delivered to your people at a venue and date of your choice. Managers and supervisors benefit by attending this practical and pragmatic conflict resolution training day.
If it is not exactly what you are looking for then we can produce a tailored or fully bespoke training conflict management day for you. Please call 01608 644144 to get more advice on options or use the enquiry form.
"Excellent training"
BS
Forever Living Products