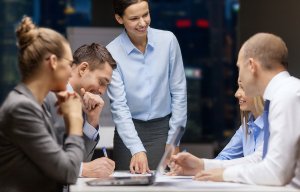 People Management
A 2-day in-company training course for developing people management skills
Managing people effectively to achieve highly motivated and productive staff is a great skill. To many people not in a managerial role it is perceived to be an easy task. However, it is widely recognised that managing can be very challenging in the modern business environment. Many managers acquire their skills through years of learning on the job. This can be a costly and tiring exercise and can rarely be afforded in today's competitive environment. Increasingly managers are experiencing the benefits of training to accelerate their learning process.
This people management training programme will provide your managers with the relevant skills to motivate staff and the best out of their people. Your managers will be energised by the interactive nature of the training. Each manager will have the chance to develop their own skills and will have the opportunity to reflect on how they can apply the methods and ideas covered to their team.
Programme Content
The Management Role
- The Process of People Management
- Key Management Tasks
Getting the Best Out of People
- Reasons for Failure or Success
- Goal and Objective Setting
Delegation and Allocating Work
- Overcoming Delegation Problems
Staff Motivating and Performance
- Motivation Theories and Background
- Motivating Staff
- Recognising Staff De-Motivation
Communicating to the Team
- Giving Individual Feedback
- Managing Effective Team Meetings
Monitoring and Controlling Staff Performance
- Conducting Appraisals Successfully
- Successful Counselling
- Staff Disciplinary Process
Recruitment Procedures
Training and Developing Staff
- The Manager's Role and Training
- Identifying Staff Training Requirements
Action Planning
- Delegate Action plans
This people management training programme is one of our standard in-company programmes. It is delivered to your managers at your offices and on a date to suit your business needs. To book this training call us on 01608 644144 or contact us with the enquiry form.
We will produce a tailored or bespoke training solution if the above programme content is not what you need. Use the form to send us details about your training needs and one of our Course Directors will call you to provide help.
"Brilliant tutor - top chap!"
LN
Man and Machine
Enquire About This Course