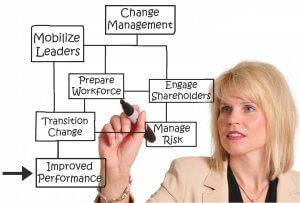 Managing Change
-implementing and managing change successfully
A 1-day in-company workshop
In today's business environment Managers have to know how to manage change.
This change management workshop covers the essentials of implementing and managing change in an organisation. It starts by identifying the key stages of the change process and how to deal with each stage. It also examines how different people react to change and how individuals can be managed effectively through this process. Managing and handling difficult situations during the change process is also covered.
Description:
The workshop includes a mix of tutor led discussion, exercises and review with tutor feedback. All the key stages of managing change are considered. The tutor who runs the course is highly experienced in managing and implementing change in many different scenarios. Delegates attending will have the opportunity to consider the issues facing them relevant to their own situation with guidance and support from the tutor. Delegates will find it provides them with a clear understanding of how they can manage change in their organisation.
This is one of our pre-designed (standard) in company programmes and can be delivered to your managers and supervisors at a venue and on a date of your choice. If it is not exactly what you are looking for then we can either create a tailored managing change course based on our extensive library of standard materials or produce a fully bespoke managing change training solution for you. Please call to discuss your needs on +44(0)1608 644144 or use the enquiry form.
What your people will get from this course:
A sound understanding of the key stages of the change process
A comprehensive review on how to manage change effectively
Methods and techniques for overcoming the various issues and barriers that prevent successful change
The opportunity to consider the specific issues facing you in your own "change" situation, with expert guidance and support from the tutor
Testimonials for Managing Change
"Interesting, thought provoking – would recommend it"
"I feel better able to manage the changes we are going through – Thank you"
"Great course, great tutor!"