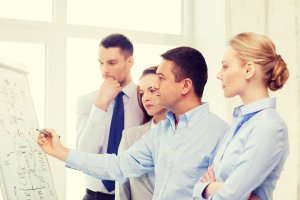 Supervisor Training
A 2-day in-company course covering essential supervisory skills for 1st line supervisors

This Supervisor Training programme has been designed specifically for first line supervisors who have to supervise the work of others whilst still doing the work themselves. It systematically considers all aspects of the supervisors role and how to achieve a high level of performance from the people you supervise. Many of the common difficulties faced by supervisors are addressed.
If you are looking for a course for newly promoted supervisors please look at our Introduction to Supervisory Skills
Your supervisors will have the opportunity practice the learning points during the many practical exercises, which include review and feedback from the tutor. They will be given clear guidance on each topic. Your supervisors will benefit from attending this in-company training programme and will leave with a host of ideas and a boost in confidence knowing how to approach their very challenging job.
Programme Content
The Role of the Supervisor
- Avoiding the Pitfalls and Problems
- Successful Supervisors
Team Supervision
- The Mechanics and Dynamics of Supervision
- Characteristics of Effective Teams
- Developing Leadership Skills
Motivating your Team
- The Theory and Background
- Recognising the Needs of Your Team
- Practical Application
Supervising The Team
- Quality and Quantity of Work
- Setting Objectives
- Delegation and Work Allocation
- Dealing with Problem Behaviours
- Discipline and Reprimand
Maintaining Team Performance
- Identifying Training Needs
- On the Job Training
- Performance Reviews
Supervisor Communication Skills
- Effective Team Briefings and Meetings
- Giving Clear Instructions
Personnel Effectiveness
- Urgent vs Important: Prioritising and Planning
Supervisor Training is a standard in-company programme which we deliver at a venue and date to suit your supervisors.  Alternatively we can design bespoke training to meet your requirements if they differ from the above course outline. If you need some help and are unsure if this course is right for you, do contact us. Our advice is freely given. Call us on 01608 644144 or use the enquiry form.
"Tutor very enthusiastic and interesting"
JH
Glazpart
Enquire About This Course