Our online time management training course is perfect for busy people who are unable to attend a classroom based course.
This complete course of eleven tutorials guides you through the principles of effective time management.
It is full of expert techniques and tips, so that you can achieve more.
This course is suitable for everyone - whatever your job title or position.
The course consists of:
- A series of fully narrated training tutorials
- Test questions, with answers for each tutorial
- Personalised Certificate - to download
- Skill Development Exercise - to download
- Key Learning Points Document - to download
- Delegate support - via email
---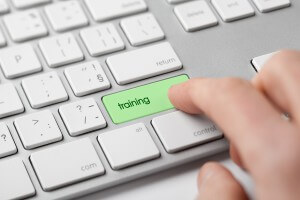 Buy now and get immediate access to your on-line training!
Time management For Busy People
This course is suitable for every one who wants to hone their time management skills. There are 11 training tutorials in the course.
Tutorial time: approx. 1.5 hours
---
How to Order
If you are ordering this course for yourself then there are three ways you can do this:
1) Simply click on the Buy Now button and you will be taken to our secure PayPal site where you can pay by credit or debit card. Once payment has been made you will automatically receive your unique pass key (via email) and can immediately access your online training course.
2) Contact our Customer Service Advisors by telephone (01608 644144) and they will take your order.
3) Email us your requirements at info@spearhead-training.co.uk (you can also use this email to request a booking form, which we will send by return.)
On receipt of your order by method 2 or 3, we will send you an invoice with a secure link so that you can pay for your course using PayPal. Once your payment has been received, we will send you an email with your unique pass key so you can access your online modules.
If you are a corporate customer and require training for multiple users, please see the corporate online training section for purchasing options and ordering details.
Terms & Conditions