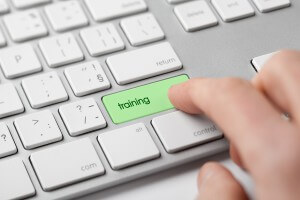 Becoming a first line supervisor requires a complete change in the way you work. It can be hard to make the transition from being a team member to being a supervisor. Our online supervisor training modules provide the perfect solution for those who prefer a self-paced method of learning, with trainer support when they need it. They improve business performance whilst saving valuable time for minimal cost.
Designed by our own experts to develop essential knowledge and techniques, the modules are easy to use and relate to the "real world" of supervising people. Applied correctly they will yield an excellent return on your time and money investment.
The complete online supervisor training programme consists of 10 core modules, but the individual modules can also be taken as stand-alone courses so you can mix and match them to build your own development programme.
Details of the available modules are presented below - please take the time to view these and if you have any questions please contact us.
Special Introductory Price: £9.99 per module, or £79 for all 10 modules purchased together.

(All prices exclude VAT)
You have 20 days to complete individual modules and 10 months to complete if you buy all 10 modules together.
The range of online supervisor training modules are as follows:
---
Module 1: Becoming A Supervisor
This module looks at the responsibilities a supervisor has and considers what makes a good supervisor and the reasons that can lead to new supervisors failing. It also looks at the competencies you must develop in order to succeed in this challenging role.
---
Module 2: Supervising Skills
To effectively supervise the people in your team you need to learn how to set and maintain standards, allocate the work load and monitor effectively. This module covers these key sill areas.
---
Module 3: The Motivational Supervisor
Supervisors need to learn how to motivate the people in their team to achieve high results. This module looks at motivation. It reviews a number of the key theories so that you understand what motivation is and looks at what you can do to motivate your team members.
---
Module 4: Communication Skills for Supervisors
In order to achieve results through your team, you must be an effective communicator. This module focuses on essential face-to-face communication skills for supervisors.
---
Module 5: Giving Feedback
Many supervisors find giving feedback to their team members a bit of a challenge. It isn't easy to do, but it is vital if you are to maintain the performance of those you supervise. This module looks at how you can give better feedback. It also covers how to receive feedback from your team.
---
Module 6: On-the-Job Training Skills for Supervisors
As a supervisor you will be skilled in many of the tasks your team does. Delivering on-the-job training and coaching is a way to ensure your team are capable of performing all of the tasks they have to do to the standard required. This module focuses on helping you develop the skills to do this well.
---
Module 7: Working With Difficult People
As a supervisor you must be able to work effectively with all types of people. In this module you will learn how to work with people you find "difficult" - whether these are your team members, your manager or your colleagues.
---
Module 8: Better Delegation
Many supervisors have difficulty in letting go of work that could, or should, be done by their team. In this module you will learn delegation strategies that will help you to create and maintain a more effective, and smoother-running, work environment.
---
Module 9: Effective Performance Appraisals
Performance appraisals, or reviews as they are sometimes called, can fill the less experienced supervisor with dread. This module looks at what to do to prepare and to then run an effective performance appraisal.
---
Module 10: Time Management Skills For Supervisors
You can not stop time, slow it down or speed it up. Yet you must be able to manage your time effectively if you are to be a successful supervisor. This module covers the principles of effective time management and provides some essential tools and tips to help you master this most valuable of resources.
---
Please see the on line training page for details of the format of each module and for FAQ's
How to Order
If you are ordering the online supervisor modules for yourself then there are three ways you can do this:
1) Use the order form - on the right of this page
2) Contact our Customer Service Advisors - call us on 01608 644144 and we will take your order.
3) Email us your requirements - info@spearhead-training.co.uk (you can also use this email to request a booking form, which we will send by return)
On receipt of your order we will send you an invoice, and as soon as your payment has been received we will send email you your unique pass key so you can access your online modules. If you choose to pay by credit/debit card then the invoice will contain a secure PayPal link so that you can pay for your modules this way.
If you are a corporate customer and require online supervisor training for multiple users, please see the corporate online training section for purchasing options and ordering details.
Terms & Conditions
Why choose online supervisor training
Here are eight reasons why you should choose Spearhead's online supervisor training modules:
Order Form
"Enjoyable course. Tutor was friendly and listened well"
HO'N
Man and Machine
"Exceeded my expectations"
SE
Man and Machine
"Whole day was well laid out. Tutor was very clear and concise."
PH
Glazpart