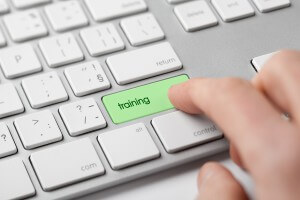 This online training course has been designed to help you develop your leadership skills as a sales manager. It will help you analyse your strengths and weaknesses and enable you to improve the leadership of your sales team. Our online sales leadership course provides the perfect solution for those who prefer a self-paced method of learning, with trainer support when they need it. It improves business performance whilst saving valuable time for minimal cost.
Designed by our own experts to develop essential knowledge and techniques, the course is easy to use and relate to the "real world" of leading a sales team. Applied correctly it will yield an excellent return on your time and money investment.
The complete online sales leadership training programme consists of 5 modules, details of these are presented below. Please take the time to view this information and if you have any questions please contact us.
Special Introductory Price: £59.99

(All prices exclude VAT)
You have 6 months to complete the entire course.
The 5 modules in this course are as follows:
---
Module 1: Introduction and Leadership Style Assessment
This module introduces the course and includes a leadership style assessment to identify your current sales leadership style.
---
Module 2: Leadership Style Interpretation
This module looks at the background to the different leadership styles and identifies the strengths and weaknesses of each style.
---
Modules  3 to 5 : Developing Sales Leadership Competence
These modules look at how to strengthen your leadership style.
A personalised certificate can be printed at the end of module 5 and there are also downloadable post-course exercises and additional support materials for you to use.
---
Please see the on line training page for FAQ's
How to Order
If you are ordering the online sales leadership course for yourself then there are three ways you can do this:
1) Use the order form - on the right of this page
2) Contact our Customer Service Advisors - call us on 01608 644144 and we will take your order.
3) Email us your requirements - info@spearhead-training.co.uk (you can also use this email to request a booking form, which we will send by return)
On receipt of your order we will send you an invoice, and as soon as your payment has been received we will send email you your unique pass key so you can access your online course. If you choose to pay by credit/debit card then the invoice will contain a secure PayPal link so that you can pay for your course this way.
If you are a corporate customer and require online sales leadership training for multiple users, please see the corporate online training section for purchasing options and ordering details.
Terms & Conditions
Why choose online sales leadership training
Here are eight reasons why you should choose Spearhead's online sales leadership training course:
Order Form
"Surprised that the time went so quickly! Shows I was engaged with the training."
ME
Karcher
"Fantastic tutor. She was extremely helpful and insightful."
JBD
Forever Living Products
"The whole content was immensely valuable & appropriate to me"
SK
Omega Pharma Ltd