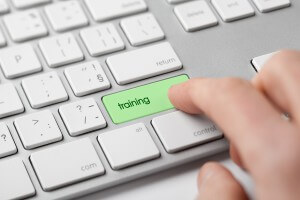 Our online Handling Customer Complaints training provides the perfect solution to help those who's job involves interaction with customers.
The course will help you learn how to deal successfully with customer complaints in a way that boosts not only your company's reputation but will also earn a good name for yourself.
The modular course is easy to use. Applied correctly it will yield an excellent return on your investment.
The course consists of an introductory tutorial and four training tutorials with test questions which build into a complete online handling customer complaints training programme.
Details of the course is presented below - please take the time to view it and if you have any questions then do please contact us.
Special Introductory Price: £45
(All prices exclude VAT)
You have 3 months to complete the entire course .
The course consists of the following:
---
Introductory Tutorial
Tutorial 1: The Hidden Opportunities
Test Questions - Tutorial 1
Tutorial 2: Handling Complaints Made In Person (face-to-face or by telephone)
Test Questions - Tutorial 2
Tutorial 3: Handling Complaints Made In Writing
Test Questions - Tutorial 3
Tutorial 4: Preventing Complaints
Test Questions - Tutorial 5
You also get:
A Personalised Certificate
Downloadable Complaint Record Template
Downloadable Post Course Exercise, with Model Answers
---
Please see the on line training page for FAQ's
How to Order
If you are ordering our online Handling Customer Complaints course for yourself then there are three ways you can do this:
1) Complete the online order form on the right of this page.
2) Call our Customer Service Advisors on 01608 644144 and they will take your order.
3) Email us with details of your requirements at info@spearhead-training.co.uk (you can also use this email to request a booking form, which we will email to you)
An invoice will be sent on receipt of your order, and once payment has been received we will send you an email with your unique pass key. This allows you to access your online course. If you want to pay by credit card or by debit card then your invoice will contain a secure link so that you can pay for the course using PayPal.
If you are a corporate customer and require online Handling Customer Complaints for multiple users, please see the corporate online training section for purchasing options and ordering information.
Terms & Conditions
Each pass key is active for 90 days.
Each pass key is for a single user only and the user's name must be entered to access the course.
Each pass key can be used by the named user on up to separate three devices, but not simultaneously. If Spearhead detects that pass keys are being used by multiple users then the pass key access will be removed immediately.
Reproduction or re-use of the material (including the downloadable materials) for anything other than personal use is strictly forbidden. Spearhead material cannot be used for any other purposes.

Order Form
"Really like the approach, speed, obvious care and diligence the tutor takes"
EC
Infotech Ltd
"I felt the course was extremely helpful and delivered well with a range of activities to keep our interest and help our understanding"
RC
Yuasa Battery Sales (UK) Ltd