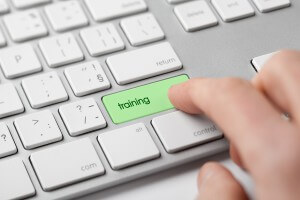 Our online Project Management training provides the perfect solution to help those tasked with managing a project. They will help you learn the key techniques required to deliver your projects on time and on budget. The five modules in the series are easy to use and relate to the "real world" of managing projects. Applied correctly they will yield an excellent return on your investment.
There are five core modules which build into a complete online project management training programme. The modules can also be taken individually and mixed with our other online management training modules, so you can build your own self-development course.
Details of the five modules in this series are presented below - please take the time to view them and if you have any questions then do please contact us.
Special Introductory Price: £9.99 per module, or £45 for all 5 modules purchased together.
(All prices exclude VAT)
You have 20 days to complete individual modules and 6 months to complete if you buy all 5 modules together.
The range of online project management modules are as follows:
---
Module 1: Starting a Project
Being asked to manage a project can be daunting. This module looks at how projects differ from other work and the new skills you will need to master. It identifies the various roles and responsibilities of the project team and covers the critical activities associated with starting a project.
---
Module 2: Project Planning Methods
This module looks at the planning phase of the project. It covers a number of key project management planning methods that will allow you to produce detailed project plans.
---
Module 3: Controlling the Project
This module looks at how to control a project, including the identification and management of risk.
---
Module 4: Managing the Project Team
The project manager must not only manage the project but also the people. Projects involve change and this often leads to conflicts. This module focuses on the people side of project management, including managing conflict.
---
Module 5: Communication Skills for Project Managers
Project managers must become skilled communicators. This module focuses on developing your communication skills.
---
Please see the on line training page for details of the format of each module and for FAQ's
How to Order
If you are ordering our online project management modules for yourself then there are three ways you can do this:
1) Complete the online order form on the right of this page.
2) Call our Customer Service Advisors on 01608 644144 and they will take your order.
3) Email us with details of your requirements at info@spearhead-training.co.uk (you can also use this email to request a booking form, which we will email to you)
An invoice will be sent on receipt of your order, and once payment has been received we will send you an email with your unique pass key. This allows you to access your online project management modules. If you want to pay by credit card or by debit card then your invoice will contain a secure link so that you can pay for the modules you order using PayPal.
If you are a corporate customer and require online project management training for multiple users, please see the corporate online training section for purchasing options and ordering information.
Terms & Conditions
Each pass key is active for 20 days per module you purchase. Therefore, if you purchase three modules the pass key is active for 60 days and so on. If all five modules are purchased together, you will get a total of six months to complete the entire course.
Each pass key is for a single user only and the user's name must be entered to access the modules.
Each pass key can be used by the named user on up to separate three devices, but not simultaneously. If Spearhead detects that pass keys are being used by multiple users then the pass key access will be removed immediately.
Reproduction or re-use of the material (including the downloadable materials) for anything other than personal use is strictly forbidden. Spearhead material cannot be used for any other purposes.

Order Form
"The real life examples were so important to help me understand how I can use tools in practice"
SK
Omega Pharma Ltd
"Very good training. I felt comfortable. All staff were great."
NG
Man and Machine