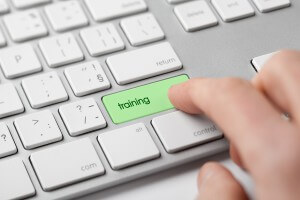 Online Support Staff Training
Our online support staff training provides the perfect solution to help busy office support staff develop vital business skills without leaving their desk.
The programme consists of ten "express training" modules which are delivered one per week over a ten week period.
Each express module covers a single topic and will take no more than 10 minutes to complete. The virtual tutor led training session is designed to provide useful tips to help you hone your skills. As such they are ideal for busy people, as you can learn during your coffee break or at lunch time.
Special Introductory Price: £45.00 per ten module express course.
(All prices exclude VAT)
The ten modules are:
How to prioritise
Writing effective e-mail
Be a better listener
Building effective working relationships
Developing a professional telephone manner
Solving problems
Saying No
Preparing for a presentation
Persuading people
Managing stress
How to Order
If you are ordering our online express training course for yourself then there are three ways you can do this:
1) Complete the online order form on the right of this page.
2) Call our Customer Service Advisors on 01608 644144 and they will take your order.
3) Email us with details of your requirements at info@spearhead-training.co.uk (you can also use this email to request a booking form, which we will email to you)
An invoice will be sent on receipt of your order, and once payment has been received we will send you an email with your unique pass key. This allows you to access your first online express module - the other modules will become available for you to access at weekly intervals after this. If you want to pay by credit card or by debit card then your invoice will contain a secure link so that you can pay for the modules you order using PayPal.
If you are a corporate customer and require online express training for multiple users, please see the corporate online training section for purchasing options and ordering information.
Terms & Conditions
Each pass key is active for 7 days per express module. Modules are delivered at weekly intervals.
Each pass key is for a single user only and the user's name must be entered to access the module.
Each pass key can be used by the named user on up to separate three devices, but not simultaneously. If Spearhead detects that pass keys are being used by multiple users then the pass key access will be removed immediately.
Reproduction or re-use of the material for anything other than personal use is strictly forbidden. Spearhead material cannot be used for any other purposes.

Order Form
"The pace and style of learning was just right. Especially the high level of interaction."
PW
Visual Foods Ltd
"Tutor very enthusiastic and interesting"
JH
Glazpart