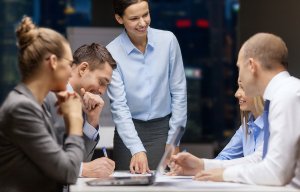 Telecommunications Sales Training
a 2-day in-company training course
This telecommunications sales training is designed to enhance the skills of teams selling solutions in this industry. The programme has been developed from a wide sales experience combined with extensive ongoing field research work. This is a highly interactive programme, including tutor led discussion, a series of individual and syndicates exercises with review, feedback and agreement of best practice. 
Delegates will explore the whole sales cycle and formulate plans of action to manage the process effectively. They will consider how to increase customer commitment to close the sale. They will also explore how to build a strong business case that satisfies the business needs and requirements of the decision making team. Delegates will increase their understanding of sales psychology by understanding their own natural selling style and how this interacts with the differing needs of various personality types.
Specific attention will be given to ensuring that sales presentations are persuasive, with a clear communication of the value proposition for the customer. The programme will also consider the real life objections and barriers to purchase and delegates will develop strategies to minimise these along with tactics to overcome them. As negotiating with financial people is an ever increasing requirement, this area is covered with the aim of maximising the outcomes for both supplier and customer.
In summary, this will be an engaging, challenging and highly productive training session for your team. Delegates will leave with enhanced skills to take on this highly challenging role.
Programme Content
Stages of the Buying and Selling Process
Selling a Technology Solution
Managing a Complex and Long Sales Cycle
- Time Scales
- Controlling the Cycle of Events
Managing the Multi-Level Decision Making Process
- The Needs of Buying Teams
- Buying Roles
Analysing the Current Situation
- Perception of Needs and Urgency of Purchase
- Identifying Positive & Negative Attitudes
Establishing Requirements
- Business Needs and Personal Desires
Psychology Selling
- Understanding Different Behavioural Styles
- Building Relationships
- Meeting Individual Psychological Needs
Communicating Solutions
- Differentiating from the Competition
- Presenting the Persuasive Sales Case
- Delivering the Value Proposition
- Effective Proposals
Overcoming Objections
- Dealing with Barriers to Purchase
Gaining Commitment
Negotiating Techniques
Closing Skills
Delegates Action Plans
More Information:
Delegates will build upon their existing skill set with a view to improving business performance. The programme has been designed to consider the strategies and tactics required for success in high-level, complex telecommunications sales situations. It is available as an in-company option only. We can deliver this standard outline or alternatively we can tailor it or even create an entirely bespoke solution. Please contact us to discuss your requirements.

Please call 01608 644144 for further details or use the enquiry form.
"Great course + great tutor. I learnt so much over the two days. Thank you."
KW
Man and Machine
Enquire About This Course