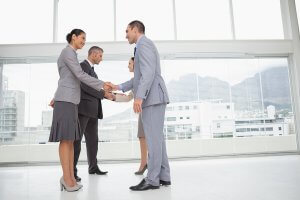 Specification Sales
a 2-day in-company training course
This training is specifically designed to for those responsible for specification sales in the construction industry. Spearhead has a successful track record of improving the performance of many leading providers in this industry.
The training will focus on developing skills for specification sales. A theme throughout the course is how to sell to and influence the different people involved in the decision making process. This will typically involve Architects, Quantity Surveyors, Consultants, Contractors, Purchasing, End Users, Operational and Commercial Directors. 
All of the key steps of the selling process are covered via tutor led discussion, individual and group practical exercises and review and tutor feedback to ensure best practice. There will be opportunity to consider the many challenges and to discuss and develop techniques. Delegates will build their own individual action plans as well as a collection of sales techniques for implementation in the workplace.
Programme Content
The Challenges Specification Selling
Selling into the Public and Private Sectors
Dealing with the Different People Involved in Purchasing
- Architects
- Quantity Surveyors
- Contractors
- Consultants
- Purchasing
- End Users
- Operational and Commercial Directors
Planning and Preparation
Managing the Sales Process
Customer Meetings
- Identifying Customer Needs and Questioning Skills
- Structuring the Meeting
- Presenting Your Case
Relationship Building
- The Relationship Ladder
- The Spearhead Relationship Value Profiler
- Dealing with Different Personalities
- Building and Managing Key Relationships
Handling Objections
- Dealing with Specific Price Objections 
Negotiating Mutually Acceptable Outcomes
Closing Techniques and Gaining Commitment
Action Planning
More Information:
The key steps covered over the two days include making appointments, handling meetings with the various people involved in the decision making process, identifying and influencing the needs and specification requirements, presenting information, handling objections, and closing sales.
Building relationships is also a key subject in this industry. We have developed exercises specifically aimed to help delegates enhance their understanding of how to build relationships with different personalities and the personal needs of the various people involved in the decision making process. The techniques for negotiating to achieve profitable business and dealing with requests for discounts are covered.  The training will also consider the differing requirements of both public and private sector and how each one should be best approached. Delegates will develop their individual post course plan of action to implement to enhance their performance.
In summary this in-company training provides a valuable chance for a team to take a step back and review the whole sales process and their current approach. This allows them to identify techniques that can make a positive contribution to their business performance. It will also a forum to take a fresh view on this challenging market.
The programme content can also be tailored to fit the needs of your business. Please contact us to discuss your requirements. You can do this by calling us on 01608 644144 or fill in the enquiry form.
"The whole content was immensely valuable & appropriate to me"
SK
Omega Pharma Ltd