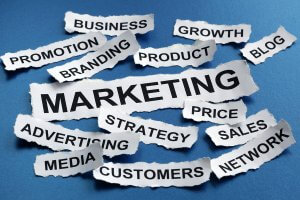 Marketing Fundamentals
- how marketing works to build business
A 2-day in-company course
This is the definitive marketing course for those who want a full understanding of the marketing function.  All aspects of marketing are covered in an interactive way with tutor led sessions and practical exercises. It is the first choice for those who perform, or who are about to perform, a marketing role.
Description:
The marketing function of a business plays a vital role in it's success. Whilst marketing is often considered to be a black art, there are many tools and techniques that can be use to enhance the marketing effort. Most of us are exposed to marketing in some form and therefore most of us have an opinion of marketing. There are many ways of going about marketing a product of a service. Which one is right or wrong? Good or bad? Marketing Fundamentals considers these many issues and distils them into easy to use tools that delegates can apply to their individual situation.
This is one of our pre-designed (standard) in company programmes and can be delivered to your staff at a venue and on a date of your choice. If it is not exactly what you are looking for then we can either create a tailored Marketing course based on our extensive library of standard materials or produce a fully bespoke marketing training solution for you. Please call to discuss your needs on +44(0)1608 644144 or use the enquiry form.
Who will benefit from this in-company course?
This marketing fundamentals course is suitable for anyone currently in, or is about to take on, a marketing role and who wants a full understanding of the marketing function. It is also suitable for those who do not directly have a marketing responsibility, but who you feel would benefit from a greater understanding of what marketing is all about, such as marketing assistants, product managers, PR and your sales staff.
There is no requirement for any prior marketing knowledge or experience before attending this in-company marketing course.
What your delegates will get from attending:
Knowledge of the jargon used in marketing - and what it really means
Understanding of the key marketing management tools, as used by professional marketeers
Information on how to bring a new product or service to the market
Tips and techniques required for successful marketing communication
Testimonials for Marketing Fundamentals
"I enjoyed the practical case studies and discussions." RH, UK Power Solutions
"Constant reference to 'real life' which helps learning process." PS, Cranfield University
"I really enjoyed the course. The tutor kept it interesting - not all theory." KH, Simple Essentials Ltd
Enquire About This Course