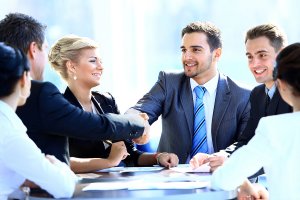 Manufacturing Sales Training
a 2-day in-company training course
This manufacturing sales training will provide a structured review of the key stages of the process. It will include a series of delegates exercises to provide the opportunity to consider the best approach relevant to each delegates personal situation at each key step. The outcomes from these exercises will provide a host of tools and techniques that delegates can implement in their job role.
A significant element of the training is devoted to developing convincing reasons for a customer to buy whilst differentiating yourself from the competition. Delegates will link this work to the needs of manufacturers. Delegates will also develop a plan for effective appointment making. This will progress into considering each stage of the customer meeting including questioning skills to identify and build customer needs, presenting and proposing the financial business case, and how to overcome the objections that they encounter. The additional challenge of dealing with multiple decision makers including procurement is also covered. Techniques to negotiate and achieve a positive outcome for both the supplier and customer will be reviewed.
During this manufacturing sales training, delegates will have the opportunity to exchange experiences and views as receiving guidance from the tutor to develop best practice. At the end of the two days delegates will agree both an individual and group post action plan for implementation.
This Manufacturing Sales Training course will provide a structured review of the sales process specific to the Manufacturing Industry and will help delegates develop an ordered plan of actions to enhance individual effectiveness.
What Delegates Will Gain:
The chance to review each key stage of the process
Enhanced understanding of how to sell to manufacturers
A structured plan for selling in the manufacturing industry
Best practice tools and techniques
Programme Content
The Stages of the Manufacturing Sales Process
The Needs of Manufacturers
Developing Your Proposition
- Motives for Buying
Planning and Preparation
- Preparing Your Approach
Appointment Making                
Communication Skills
The Structure of the Customer Meeting
Creating the Right Impression            
Identifying and Building Customer Needs                
Dealing with Multiple Decision Makers
Presentations            
- Presenting the Financial Business Case
Effective Proposals
Overcoming Objections                
Gaining Commitment and Closing                    
Negotiating Positive Outcomes
Making Follow-up Calls
Managing Sales Time        
- Territory Management
More Information:
This manufacturing sales training will develop the knowledge and skills of your team.  Throughout the programme delegates will address the challenges of selling to manufacturers. It will consider each step of the process with a view to developing tools and techniques that delegates will be able to use in their job role.
We have an excellent track record of working with companies in this sector and working with us to develop the skills of your team is a very cost effective way to improve business performance. If you have specific requirements, this programme can be tailored. This training can be delivered for your team at a location and dates to suit to you. Training fees are dependent on a number of factors. We aim to provide the most competitive proposal once we know your requirements.
Please call 01608 644144 for details or use the enquiry form.
"All areas were explained really well"
JB
John Guest
Enquire About This Course