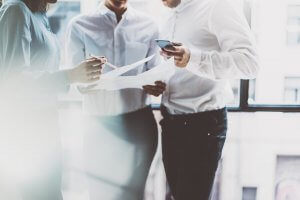 Industrial Sales Training
a 2-day in-company training course
This industrial sales training covers all key stages of the sales process in order to close business effectively. Delegates will consider the needs of industrial customers and how they can convert selling points so as to motivate people to buy from them. For only a small investment in time and money, this training will repay itself many times over from improved results.
This course will provide delegates with a plan for selling to industrial customers in a competitive environment. It will also provide each delegate with a range of practical tools and techniques to enhance personal performance.
What Delegates Will Gain:
An ordered plan of action to enhance their approach to selling to industrial customers
Detailed reference support material to aid implementation
Increased knowledge, confidence and skills
Programme Content
The Steps of the Sale
Creating a Competitive Advantage
Customer Meetings
- Establishing the Criteria for Purchase
- Building Your Case
Selling Against Competitors
Call Planning and Preparation
Presenting the Business Proposition
- Financial Justification
- Developing Convincing Proposals
Dealing with Multiple People in the Buying Process
Handling Customer Queries and Questions
- Dealing Price and Other Key Objections
Managing Buying Cycle
- Identifying Lead Times
Gaining Customer Commitment and Closing
Prospecting for New Business
- Making Appointments
Managing Your Territory and Time
More Details:
This industrial sales training programme is designed to enhance the ability of a sales team. Delegates will consider the each step of the process with a view to developing their skills. The programme contains a series of exercises designed to help develop a tool kit of practical techniques for building their performance. It is delivered by tutors with extensive experience in industrial selling with an excellent track record.
During the programme, there will be exercises where delegates will consider each key stage and the techniques that they can implement specifically to their own situation. Exercises will include tutor led review and discussion so that positive outcomes are reached. A benefit of this process is that delegates will be able to share successes as well as new ideas to improve results. This approach saves valuable time and reduces the risk of lost business by learning individually the hard way in the field.
Delegates will benefit from feeling more prepared as a result of attending, leading to a boost in self-confidence. Each delegate will build their own action plan to take away and implement in the workplace.
This training is available as an in-company option only. We can tailor the content or create a bespoke training course for you. Please contact us to discuss the objectives for your team and we will provide advice and guidance on how these can be best met. Use the enquiry form or call 01608 644144.
"Exceeded my expectations"
SE
Man and Machine
Enquire About This Course