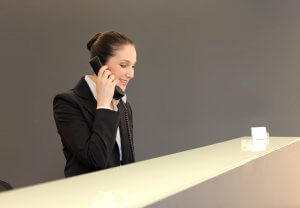 Receptionist Training
A one-day in-company workshop
This workshop is designed for receptionists who are the first point of contact and so need to interact professionally with your customers and suppliers. Well-trained receptionist create a good impression of your organisation to your visitors.
Workshop Outline:
Why is Customer Service Important?
Your Visitor's needs
Standards of Client Care
Communicating by telephone vs. Communicating in person
Golden Communication Rules
Conversational and Informational Questioning
Taking the Information In
Specific Techniques For Professional Call Handling
Handling Awkward Visitors with Empathy
Handling Irate Callers
Practice using Role Play
Your Actions going forward
This one day workshop is one of our standard range of in-company programmes. It has been designed for receptionists and is delivered to them on-site at your venue and on a date of your choice. If it is not exactly what you want then we can either create a tailored workshop based on our extensive library of receptionist training materials or produce a fully bespoke receptionist workshop for you. Please call our administrators on 01608 644144 for details or use the enquiry form.
"All areas were explained really well"
JB
John Guest
Enquire About This Course