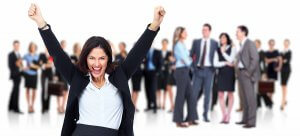 Being Brilliant
- surviving and thriving under pressure
A 1-day in-company workshop
This workshop is for office support staff who need to maintain high personal performance levels at work despite the pressures placed upon them.
Description:
This is one of our pre-designed (standard) in company workshops, delivered to your staff at a venue and on a date of your choice.
Surviving and thriving under pressure are key to performing effectively in a support role. Those who do are the high performers who are often labelled as "brilliant" by their manager. This in-company workshop looks at techniques for balancing performance and pressure at work in order to maintain your personal productivity.
If it is not exactly what you are looking for then we can either create a tailored workshop for you based on our extensive library of standard materials or produce a fully bespoke training solution. Please call to discuss your needs on +44(0)1608 644144 or use the enquiry form.
What your people will get from attending:
Techniques for maintaining a high level of personal productivity
Tips on managing pressure and stress
Practical solutions to make them more efficient
Testimonials for Being Brilliant:
"Stress management was dealt with exceptionally well" DW, McCue
Enquire About This Course