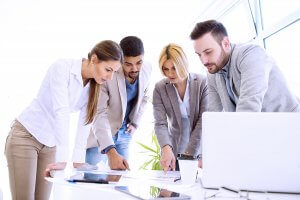 Improving Cross Functional Teamwork
A one-day in-company workshop
Team work is important. Without it organisations are less successful. This is an exercise based training programme to improve teamwork in cross functional teams. The training is based on a number of team-building exercises to improve teamwork skills.
Programme Content
Common Problems of Working Across Functions
The Effective Cross-Functional team
Communication Issues
How teams Develop
Being in the team
Team Style Behaviours - your own and others
Practicing Your Skills - a group exercises
Going Forward Together
Managing The Changes Needed
Recognising the negative norms
Being Clear in Your Goal
Embedding new team behaviour
Personal Commitments to improve team work
This is one of our standard in-company programmes designed to improve cross functional teamwork. It is delivered to the people in your organisation at a venue and date of your choice. It can be adapted to suit your needs by either tailoring the content or by us writing material exclusively for you (called bespoke training). Please call 01608 644144 or use the enquiry form to book this course or enquire about in-company training.
"Explained very well and will be useful"
DC
Interpet Ltd
Enquire About This Course