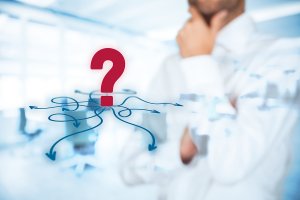 Problem Solving Skills
a 1-day in-company training course
This workshop will build confidence and allow delegates to recognise their ability to solve problems effectively by learning proven problem solving skills and techniques. It will show delegates the benefits of working with others to solve problems in an organised way.
Programme Content
Benefits of Problem Solving
Individual Problem Solving
Group Problem Solving
Creative Thinking
The Problem Solving Process
Practical Exercises
Organising Thought Processes
Defining Problems Clearly
Analysing Problems
Finding Solutions
Cost-benefit Analysis
Presenting Solutions
Problem Solving Techniques
Action Plans
More Information:
This problem solving workshop is one of our standard one day in-company programmes. We deliver this programme at your venue to your people on a date of your choice.
We recommend that you consider our tailored and bespoke training solutions if this programme is not exactly what you are looking for. We are happy to provide recommendations, call us on 01608 644144 to discuss your needs or use the enquiry form.
"The pace and style of learning was just right. Especially the high level of interaction."
PW
Visual Foods Ltd
Enquire About This Course