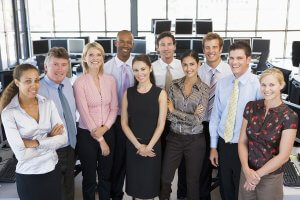 Fundamentals of Business
a 1-day in-company training course
Business success is dependent on ensuring everyone within the organisation acts to contribute positively to the organisations goals and objectives. This one-day workshop has been designed for support staff in all disciplines. It will provide them with practical techniques that will help them enhance their contribution and add value. It looks at how employees can, through the way they work, add value to their company. Exercises, skill development sessions and self-analysis are used to help delegates understand the key training points and relate these to positive actions they can take at work.
What you will gain:
1. An understanding of the key drivers that affect business profitability
2. A host of tips and techniques to enhance your value as an employee
3. Individual guidance and advice from your tutor on how to maximise your contribution
Programme Content
Business Basics
- Why Businesses Exist
- How Businesses Stay Profitable
Understanding Your Contribution
- Knowing What is Expected
- Shareholder, Customer & Employee Needs
- Measuring Your Contribution
Personal Effectiveness
- The Two Components of Personal Effectiveness
- Creating the Right Impression
- Communicating Positively
- Work Habits for Success
Relationship Skills
- Working With Your Manager
- Working As Part of a Team
Managing Your Own Performance
- Managing Performance & Pressure
- Keeping a Positive Attitude
- Self-Motivation Tips
Improving Your Contribution
- Becoming a Star
- Responding to Feedback
Your Action Plan for Positive Contribution
More Information:
This business skill workshop is one of our standard in-company programmes and can be delivered to your support staff at a venue and date of your choice. If it is not exactly what you want then we can either create a tailored day based on our extensive library of standard materials or produce a fully bespoke training programme for you. Please call 01608 644144 to discuss your needs and receive our free advice or use the enquiry form.
"The real life examples were so important to help me understand how I can use tools in practice"
SK
Omega Pharma Ltd
Enquire About This Course