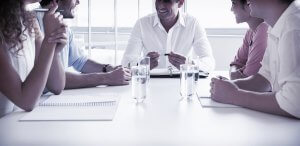 Effective Meetings
a 1-day in-company training course
How effective are your meetings? If, like many businesses, the answer is "not very" then this fun and interactive one day workshop is for your company. Your people will learn the essential skills which will enable them to plan and run an effective meeting. Tutor led discussions, practical skill developing exercises and self-assessment tools are used. Run this workshop and ineffective meetings will be a thing of the past.
Programme Content
Meetings: the good, the bad and the ugly
Why hold a Meeting?
The different types
Meeting Preparation Essentials
Creating Useful Agendas
Chairing Responsibilities
Useful Meeting Records
Facilitating Meetings where creativity is required
Running Remote Meetings
Managing the People in Meetings
Self-Assessment & Useful Checklist
Actions to Implement
More Information:
This workshop is one of our standard in-company business skills programmes which we deliver to your people at a venue and date of your choice. We can create a tailored meeting skills workshop based on our extensive library of standard support materials for you and produce fully bespoke training courses, if this workshop is not what you want so please call 01608 644144 for details or use the enquiry form.
"Brilliant tutor - top chap!"
LN
Man and Machine
Enquire About This Course