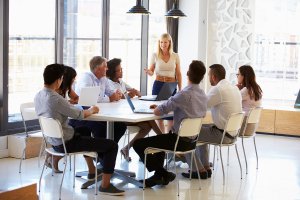 Chairing Meetings
a 1-day in-company training course
All businesses hold meetings; they're an essential part of business. Run well they are invaluable, yet too often they waste time by being poorly planned, too long and badly run. Such meetings use up resources that could be used more productively. This practical one day workshop delivers the essential skills and techniques needed to ensure you can run an effective meeting.
Programme Content
Ineffective vs Effective Meetings
When Is a Meeting Useful?
The Different Types Of Meeting
Meeting Preparation
Improving the Agenda
The Chair's Responsibilities
Skills for Chairing
Types of Minutes
Facilitating Creative Sessions
Virtual Meeting Tips
Controlling the "Dragons".
Self-Assessment & Checklist
Action Plans for your next Meeting
More Information:
This workshop is one of our standard in-company business skills programmes and can be delivered to your people at a venue and date of your choice. It is ideal for all managers who run group meetings. We also provide tailored and bespoke training solutions, so if it is not exactly what you want please call 01608 644144 for details or use the enquiry form.
"I felt the course was extremely helpful and delivered well with a range of activities to keep our interest and help our understanding"
RC
Yuasa Battery Sales (UK) Ltd
Enquire About This Course