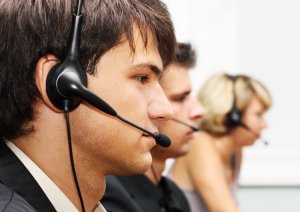 Call Centre Training
a 1-day in-company training course
This workshop is for call centre staff and focuses on how to deliver a high level of customer service over the telephone. It reviews all key principles of effective call handling and how they relate to delivering exceptional customer service. There are exercises throughout to develop delegates' skills.
Programme Content
Customer Service Standards
- What are they?
The Needs of Callers
Communicating by Telephone
- Points of Difference – Telephone v Face to Face Communication
- Effective Telephone Communication
Positive Language
Using Your Voice Well
Questioning Skills
Effective Listening Habits
Telephone Techniques
- Answering Incoming Calls
- Re-Routing Calls
- Taking Messages
- Making Outbound Calls
- Leaving A Professional Voice Message
Dealing with Different Types of Caller
Handling Awkward Callers
- Handling Irate Callers
- Complaint Handling
Positive Endings
The Rules of Effective Call Handling
Do's and Don'ts
More Information:
This call centre training workshop is one of our standard one day in-company workshops. We deliver it for your people at a date and location convenient to you. If the content does not exactly meet your needs, we can develop a tailored course for you using our extensive resource of training material. We can also design a bespoke training to meet your specific requirements. Please call 01608 644144 for further details or use the enquiry form.
"Whole course was exactly what I wanted"
PR
Gap Group Ltd
Enquire About This Course