Who is this course suitable for?
Use this course to ensure all your employees understand what they must do to ensure your business remains compliant with the General Data Protection Regulation (GDPR).
Essential training for all all employees involved in handling data at work.
Certification
Delegates will be required to complete the final test at the end of the course.
The test will be composed of ten questions selected randomly from a bank of questions. The minimum pass rate is 70%. Delegates can download and print their certificates once the test has been successfully passed.
Course Outline:
This 50 minute course consists of:
Overview of General Data Protection Regulation (GDPR)
Your Role and Responsibilities
Processing Data
Principles of GDPR
The rights of Individuals
Post Course Test
Downloadable Certificate of Completion
Course Objectives:
To explain the importance of data protection
To provide a clear understanding of the responsibilities and ensure compliance with the new laws
To clarify the details of the new General Data Protection Regulation (GDPR).
More Details
This course is essential for all organisations that want to ensure compliance with the General Data Protection Regulation (GDPR).
This course will fully outline all key aspect of the new General Data Protection Regulation (GDPR) and how it differs from the Data Protection Act. Delegates will discover the role they play and what is required to remain fully compliant with the regulations and therefore provide good business practice.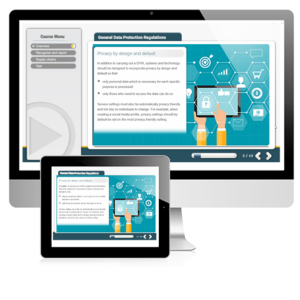 Price: £25.00 + VAT
Buy now and get immediate access to your on-line training!
Special Offer:
Save 10% off the course fee - simply enter coupon code Spearhead on the booking form.
Clicking this button will take you to our Courses123 website where you can securely place your order and pay for this course. Don't forget to enter the code to get your discount!
Once purchased you will receive a confirmation email with a link to your course and your invoice. Click on the link, fill in your first and last name and you are ready to start your course. You will be given 12 months from date of purchase to take the course.
More Than 100 Employees to Train?
Complete this form to request a Free Trial: